CycleOps Magneto trainer review
Mid-priced at £225, this offering from CycleOps comes with a progressive resistance unit and a solid base, but makes a bit of racket.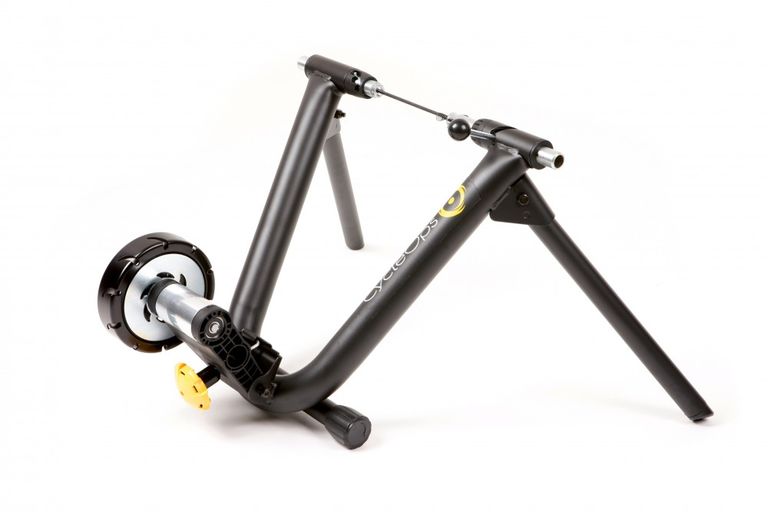 (Image credit: Andrew Sydenham)
The CycleOps Magneto trainer offers a smart progressive resistance unit and a very secure base, but puts out a serious racket at higher wattages that will annoy the neighbours.
For
+

Solid base

+

Realistic ride feel
The standout feature of the CycleOps Magneto Trainer is the progressive resistance unit which adjusts resistance depending on your speed – a first for a magnetic trainer. In effect this means the faster you ride, the more the resistance increases, mimicking the effect of shifting up when riding on the road. This creates a remarkable realistic riding experience that can't be found on many other magnetic trainers, although the unit struggles a little when really putting down the power or accelerating quickly.
>>>Buyer's guide to turbo trainers
The downside of having no way to manually increase the resistance is that high power must equal high speed, which unfortunately means this is far from the quietest trainer on test. CycleOps claim 66-68 decibels at 20mph (about the same as a normal conversation), but if you're doing a decent set of intervals you're going to be going much faster than this.
>>>Why self-torture on the turbo trainer is a necessary evil
With no wires running between the turbo and your handlebars, the Cycleops trainer has a remarkably clean look and is very easy to store. The two legs fold out to give the turbo an greater than average footprint, but provide a stable base and are adjustable for use on uneven surfaces. Your skewer is held in place by a spring-loaded lever that only adds to the secure feel and makes fitting the bike a doddle.
Visit the Paligap website for more information.