Zipp 30 Course disc-brake wheels review
Could the 30 Course disc-brake wheels be Zipp's most versatile, toughest and most affordable to date? We put them to the test and gave them the Editor's Choice thumb's-up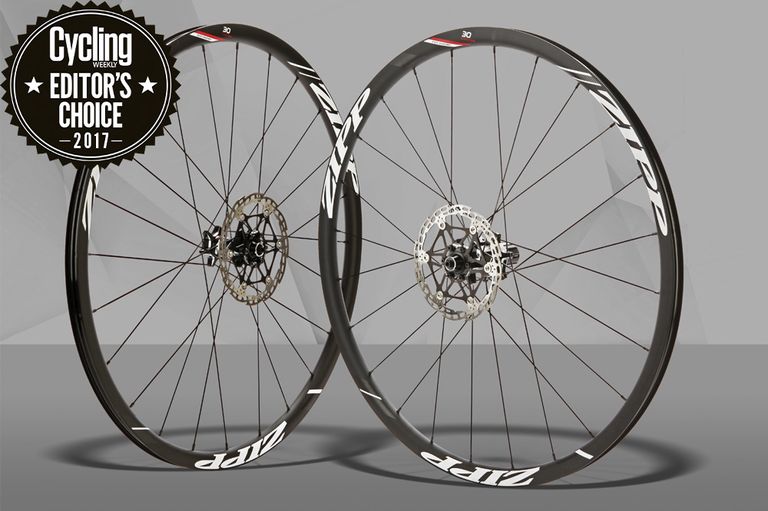 In Zipp's ever-growing range of wheels, the Zipp 30 Course disc brake wheels are the least expensive options, but at £800, we'll be the first to admit that "least expensive" doesn't mean cheap. However, for the price on offer they are seriously impressive performers, and it's this that lands them a spot on Cycling Weekly's Editor's Choice for 2017.
Zipp has always been known as a very forward-looking company, so it's no surprise that the Zipp 30 Course disc-brake wheels have been future-proofed. All conceivable axle standards are covered to allow you to fit them to whatever disc-brake bike you want.
Out of the box they're designed to work with quick-release skewers, but there are also thru-axle end-cap adaptors supplied (front: 12x100mm & 15x100mm, rear: 12x135mm & 12x142mm) that should cover all eventualities.
As you would also expect, the Zipp 30 Course wheels are tubeless-ready, and there is also a tubular version available at the same cost. Zipp supplies everything else you need such as skewers and rim tape so you can begin to use these wheels straight out of the box.
With an RRP of £800, the Zipp 30 Course wheels don't have carbon rims but don't let that put you of: the aluminium rims that Zipp has given this wheelset do a great job.
Like everything else with these wheels the rims are bang up to date, coming with a wide 21mm external and 21mm internal rim width that means that they work perfectly with wider tyres, offering a more comfortable and aerodynamic ride.
Inevitably, this might lead to some tyre clearance issues, which we did find when we tested the Zipp 30 Course wheels with a 30mm tyre. The combination of the wide rim and the size of the tyre caused issues with some framesets, with minimal space under the fork and between the chainstays.
With a claimed rim weight of 500g per wheel, they're not super-light compared to some of the carbon-rimmed wheels we've ridden, but it's certainly not a bad number. They're nice and easy to spin up to speed and always felt lively on the climbs.
This makes them a great addition to heavier adventure-style road bikes that aren't always at their best going uphill.
But even with this light rim weight, the Zipp 30 Course wheels are stiff. Even with the minimal clearance between the tyre and the chainstay and the the rim and the brake pads I never had problems with them flexing even when hammering out a full-gas sprint.
Hubs have historically been something of a sticking point with Zipp wheels. However, all of the company's latest hoops – the Zipp 30 Course disc brake wheels included – come with its new 77/177D hub, which comes with better bearing protection and sealant and ditches user-adjustable preload tension in favour of factory-set preload.
Happily, I've been using the Zipp 30 Course disc brake wheels all the way through the British winter — often in atrociously wet and gritty conditions — with no problems whatsoever. The bearings are still running smoothly and quietly and these wheels are still a joy to ride.
The Zipp 30 Course disc-brake wheels are seriously impressive. Even with an aluminium rim they're light and agile enough to enliven even the dullest adventure bike, and have all axle standards covered with their quick-release and thru-axle compatibility.