Flite of fancy - KHS Flite 300 review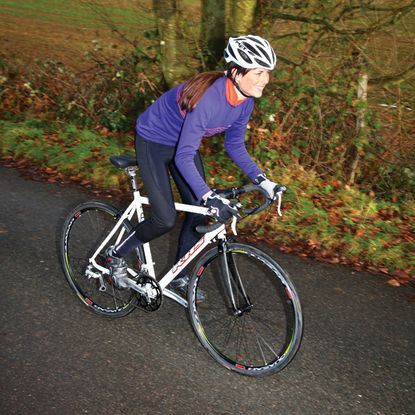 You can trust Cycling Weekly. Our team of experts put in hard miles testing cycling tech and will always share honest, unbiased advice to help you choose. Find out more about how we test.
9th January 2011 Words: Derri Dunn Photos: Chris Catchpole
KHS is known for seemingly impossible good value across its bike range and the Flite 300 is true to form, with some special little flourishes that don't disappoint.
At the start of December, as the sky turned to steel and Kent and Surrey suddenly had more snow dumped on it in one go than at any other time in living memory, the folly of ordering in a skinny-tyred roadie bike for a First Ride slowly dawned on me.
Why not a First Ride of something with disc brakes? Fat, hybrid tyres? Something that can only be ridden indoors, with a flask of hot cocoa in the bottle cage? Well, it was too late, and so I found myself reluctantly jumping aboard the KHS Flite 300 for a week of slush, frozen toes and black ice dodging.
But then I realised, if I must ride a road bike through these conditions, this actually isn't a bad choice for surviving the arctic British winter. The frame geometry lends itself nicely to commuting for a start, giving a more relaxed posture that lets you keep a lookout in traffic — and for that black ice.
Bosses for fitting a rack and mudguards
There are also all the relevant bosses for fitting a rack and mudguards, so carrying work clothes and avoiding a mud-spattered entrance to the office is also taken care of. Working downwards, I was incredibly grateful for the little bit of extra width of the 26c tyres over the 23c more commonly specced on bikes of this ilk. On board, while not quite a sprightly magic carpet ride, the Flite is reassuringly stable and un-skittish, again a boon for winter riding, with dependable road manners when cornering.
Where things get really interesting with the Flite, however, is when you look at the price tag — £550 pounds is pretty rock bottom for a road bike which doesn't weigh a tonne and have substandard components. But the Flite doesn't weigh a tonne, or have substandard components, and the price is being held despite the VAT increase in the New Year.
There are a handful of similarly-priced machines around, mostly by the likes of bike behemoths like Specialized and Trek, so KHS would have to wring this budget hard to proffer a competitor.
No whiff of cheapness
And it really has — the 6061 aluminium frame paired with a carbon fork is pretty much de rigueur at this price point, although the classically-styled plain-gauge tubing of the Flite is tastefully finished in distinctive white and burgundy, which has no whiff of cheapness about it — welding is visible but kept small and neat.
The naked carbon fork is mirrored by a seatpost of the same material; it's a pretty hot extra, giving the bike some distinction over the competition, as do the Q2 'semi aero' wheels over the unbranded, more heavily-spoked hoops we'd expect to see on a sub £600 machine — although not mega lightweights, the Q2s are a sportier 20 spokes up front and 16 rear.
Look closer and there are other little touches to the spec package that threaten to blow the competition out of the water. Where we'd be none too surprised to find anonymous componentry, instead there's an FSA headset, Tektro brakes and Truvativ chainset. It looks like KHS has given serious consideration as to how to get the most out of the budget: by using cheap as chips in-house basics for the parts most likely to be upgraded or swapped out immediately — saddle, bar, stem, bar tape — it has conserved enough coinage to go a step-up on things like wheels and brakes.
Shimano 2300 does the job
In fact, if you're the kind of person who can't resist putting spanner to Shimano, with a really very decent frame and fork for the price, the Flite is an alluring entry-level package for the budget-conscious biker to ride now and upgrade later, probably starting with the drivetrain. Eight-speed Shimano 2300 does the job on a bike this price, but the shift paddles that can't be reached from the drops are unpopular and some riders will feel under-geared with just 16 available.
In our experience, the choice of a compact double with 2300 rather than a triple is definitely the right one as it makes it much easier to make adjustments to engage the gears just so.
It's pleasing to discover that riding a road bike right through winter needn't necessarily feel like idiocy with the right choice of machine. So if your New Year resolution was to jump on a drop bar bike and finally get yourself fit, with the Flite 300, there's a good chance that's one resolution you'll manage not to break through January and February, on into spring and beyond.
ALTERNATIVE
For a tenner extra: Specialized Allez Double
With a raft of price rises for the new season, it's pretty hard to find a 2011 machine that'll price-match the Flite 300. This Specialized is just a tenner more though, and follows the aluminium frame, carbon fork, 2300 drivetrain formula. Nevertheless; headset, wheels and brakes are all unbranded kit. If you can't live without a triple chainset, the option is available for £20 more and both colour options are chic and distinctive, particularly the glossy go-faster red.
This article first appeared in the February 2011 issue of Cycling Active magazine.
Thank you for reading 20 articles this month* Join now for unlimited access
Enjoy your first month for just £1 / $1 / €1
*Read 5 free articles per month without a subscription
Join now for unlimited access
Try first month for just £1 / $1 / €1