Topeak Omni RideCase review
The Topeak Omni RideCase enables you to mount almost any size of smartphone to a bike to be used as a computer or GPS unit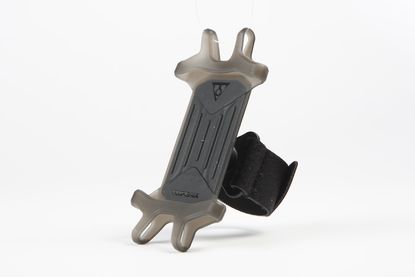 A good quality and versatile case that works well. It suits different-sized phones well and can be removed and fitted quickly.
Reasons to buy
+

Easy to use

+

Very versatile

+

Secure

+

Accommodates different phone sizes
Reasons to avoid
-

Price

-

No waterproof cover for your phone
The Topeak Omni RideCase is a useful gadget that enables you to attach your smartphone to a bike. It makes sense and is really useful in certain situations.
In most cases, as a hardcore roadie I will use a dedicated bike computer, but if I were to hop on a Boris bike and wanted some GPS navigation, the Topeak Omni RideCase would be ideal.
>>> Buyer's guide to cycling computers
A big advantage is compatibility, with different-sized phones ranging from 4.5-5.5 inch screens used with or without a case. The silicone grippers hold the phone in place securely and are good quality.
The trade-off for it being minimalist and simple is that there's no waterproof cover to protect your phone if it starts raining.
Smartphones are valuable and very stealable. Consequently it is important that you can quickly remove and insert your phone on a product like this – and fortunately you can.
The Velcro strap can mount to your stem or handlebar and is really secure. I was worried it would slide around, but I had no real issue. When riding on a short cobbled section near CW HQ it did move slightly, but this was quickly rectified.
The mount also enables you to switch between landscape and portrait, depending on your preference.
My only real criticism is the price. At £29.99 I feel it is a little high and would be looking to spend more in the region of £20 for this product
Thank you for reading 10 articles this month* Join now for unlimited access
Enjoy your first month for just £1 / $1 / €1
*Read 5 free articles per month without a subscription
Join now for unlimited access
Try first month for just £1 / $1 / €1
Oliver Bridgewood - no, Doctor Oliver Bridgewood - is a PhD Chemist who discovered a love of cycling. He enjoys racing time trials, hill climbs, road races and criteriums. During his time at Cycling Weekly, he worked predominantly within the tech team, also utilising his science background to produce insightful fitness articles, before moving to an entirely video-focused role heading up the Cycling Weekly YouTube channel, where his feature-length documentary 'Project 49' was his crowning glory.