B'Twin Triban 560 review
If you're looking for the best price on a complete carbon road bike then look no further – B'Twin has knocked it out of the park with the Triban 560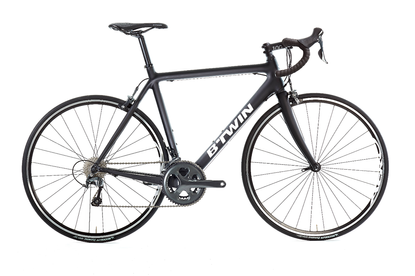 This bike was great fun to ride and constantly surprised us for such a budget option. It is ripe for upgrades, especially the wheels, but this is a race-ready steed without doubt.
Reasons to buy
+

Price

+

Stiff carbon frame

+

Cheap to replace components

+
Reasons to avoid
-

Wheelset

-

10-speed groupset

-
Why you can trust Cycling Weekly Our expert reviewers spend hours testing and comparing products and services so you can choose the best for you. Find out more about how we test.
Decathlon-owned B'Twin knows no boundaries and its range of competitively priced road bikes just keeps getting better and better – and the B'Twin Triban 560 is no exception. It would make a brilliant entry-level road bike for those looking to go faster, be more competitive or just ride a good-quality carbon bike without breaking the bank.
Frame
The B'Twin Triban 560 is a full carbon frame with a claimed weight of 1,080g in a size medium. The forks are also carbon and weigh in at 580g. This is at the heavier end of the scale when it comes to modern carbon machines, but what it lacks in lightness it more than makes up for in stiffness and handling.
Our complete test build came in at 9.0kg without pedals. The groupset and finishing kit could go on a diet and turn this bike into a pretty light race-ready machine in no time.
The geometry is slightly more aggressive than the recently reviewed endurance-focused B'Twin Ultra AF GF but the traditional bar-stem combo means there is a lot of adjustability to suit all shapes and sizes of rider.
External cable routing on the top tube and down tube do give the B'Twin Tribune 560 a more traditional look and feel. But the subtle matt-black finish and white decals really freshen things up, turning the Triban 560 into a great-looking bike.
Cables routed in this way and a matt finish paintjob do make cleaning the bike a little more time consuming however, easy maintenance from exposed cables more than makes up for this. If you've ever spent hours poking a coat hanger and magnets around inside an internally routed carbon frame, then you'll know that the struggle is real.
Spec
The B'Twin Triban 560 ships with a full Shimano Tiagra 4700 10 speed groupset on a 50-34 compact chainset and 12x25 cassette. This is quite amazing when you consider the full retail price for this groupset alone is £512.99, almost two-thirds the cost of the complete bike.
We gave the Tiagra 4700 groupset a 9/10 review back in 2015 and still stand by that rating today. It offers solid braking power, good stiffness and works very well. It definitely doesn't feel like an entry level groupset when riding it.
As to be expected with a budget mechanical groupset, it was a little tricky to set up right for the perfect, seamless gear shifting experience. The front mech was a little hard to adjust with a multitool as the mech hanger is slightly in the way of the screws.
The shifting in general is a bit wild but it's nothing a good mechanic couldn't get running smoothly. For the home mechanic the external cabling makes maintenance very easy and do it yourself cabling jobs very possible with some quick YouTube lessons and a few simple tools.
Video: how to replace your rear gear cable
With a heaviest gear of 50x12 it might leave you wanting a little more on those faster rides or descents where you're shooting for the Strava KOM. However you may be grateful for those extra few gears when trundling up the steepest climbs.
With B'Twin's own-brand finishing kit right from the saddle to the bars (it even has its own brand inner tubes!) the B'Twin Triban 560 has a solidly built quality to it. Far from the thoroughbred racehorse feel you might get from a superbike, the Triban 560 is more of a reliable steed that gets the job done.
The B'Twin ERGO FIT saddle left a little to be desired as the material was a little slippery leading to a lot of moving around when seated. Saddle choice is hugely personal but we're happy to stick with, if not stick to, the ERGO FIT.
The biggest area for upgrade in this build is the B'Twin Sport 700c wheels. At 20mm wide, 25mm deep with a very box like cross section and round spokes we were surprised to see a decal sticker on them saying 'Aero'. The marketing department may have to try a little harder in 2018 to convince the more educated consumer that this is really an 'aero' wheelset.
The traditional narrow rims (14mm internal width) meant that the Michelin competition 25mm tyres were measuring closer to 23mm and just looked a lot narrower than they would do on the latest wider rimmed and trendy wheelsets.
In fact, due to testing this bike during the winter months we quickly swapped the tyres over to a more reliable set of Schwalbe ONE's as the slick finish on the stock Michelin competition tyres worried us a little in more slippery UK winter temperatures.
The great thing about the price tag on this bike is that you may have some budget left over for upgrades and we'd recommend starting with the wheels in this instance, especially if you are looking to enter races.
Ride
The B'Twin Triban 560 was a delight to ride and we really enjoyed our time with it. The frame felt really stiff and didn't budge a millimetre when riding hard out of the saddle. The ride was marginally unforgiving but it certainly wasn't uncomfortable and we'd much rather be on this than an aluminium frame.
We felt the handling may have been slightly compromised by the tyres running quite thin on those narrow rims. However the classic round-tubed aluminium handlebars were really solid, especially in the drops, and balanced out the handling nicely.
The front forks were rock solid with very little flex and so it was easy to feel every bump and crack in the road when cornering at speed. Some people may prefer a plusher ride, but for racing that extra feel in the corners can sometimes be an advantage.
The Triban climbed well in the saddle as it was so stiff in the bottom bracket area. This combined with no flex at all coming from the chainset was quite remarkable for Shimano's lowest level groupset.
Value
Decathlon has nailed it yet again. We struggled to find more than a handful of complete carbon bikes for significantly less than £1,000 so they really are leading the way in this respect.
With mostly own-brand components, the B'Twin Triban 560 comes in at a brilliant price point and will tick all your boxes if owning a carbon frame is at the top of your list.
Thank you for reading 10 articles this month* Join now for unlimited access
Enjoy your first month for just £1 / $1 / €1
*Read 5 free articles per month without a subscription
Join now for unlimited access
Try first month for just £1 / $1 / €1