Cannondale SuperSix Evo Red 22 review
Cannondale SuperSix Evo Red 22 at £3,799 is the range-topping road bike with SRAM Red 22 groupset and the lightest mass-made frame available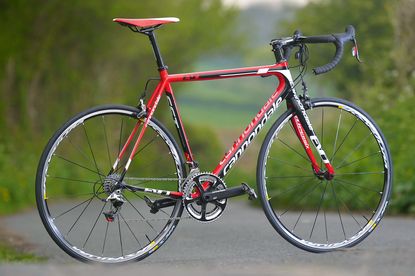 The real positives are twofold. First, there's a very reactive temperament — every ounce of energy feels as if it's being converted efficiently into outright speed. And then there is a hefty dose of secure, stable handling. I was worried that, given its minuscule weight, the SuperSix would either feel ready to crumple underneath me, or simply be blown away by any errant sidewind, but that's really not the case — this is a light bike with a big presence.
Reasons to buy
+

Light, light, light — there's no arguing that the SuperSix is staggeringly light

+

Despite its lightness, this is a very positive, super-stable ride
Reasons to avoid
-

Although the SRAM Red groupset is high-end, the high price tag is an instant negative
The Cannondale SuperSix Evo is the lightest mass-produced bike frame in the world, coming in at less than 700g. This pricey option comes fitted with SRAM Red 22, but for over a grand less, at £1,699, you can buy the SuperSix Evo 6 with Shimano 105.
>>> Cannondale SuperSix Evo Range
Frameset
For such a stand-out lightweight option, the SuperSix Evo frame is no shrinking violet. The paintwork is fulsome, and in many respects it looks like any other top-end carbon race bike.
Cannondale says it uses "advanced high-modulus BallisTec Construction and nano tech resins..." but outwardly it's a very traditional, level top-tube frame shape. Unlike the Scott, it also has a bridge between the seatstays for the rear brake. That rear brake cable is internally routed, although both gear cables stay where we can see them.
Components
Without wishing to state the bleedin' obvious, Red 22 really does feel like SRAM's best kit: there's a positivity about gear changes and an overall smoothness to the drivetrain. The brakes are absolute corkers, too, though they can be a bit fiddly to set up.
Although this is not obviously a sportive bike, it does come fitted with a compact chainset, teamed with a 12-26t cassette. Anybody used to the luxury of ultra wide-ranging cassettes might have to adjust their cadence expectations slightly on steep slopes, but you should still be able to conquer any climb.
At this price, it might seem odd to see all-alloy finishing kit. Cannondale is a master of aluminium, so it's nothing to sniff at — the bars in particular feel very secure in the hand. A little composite treat would have been nice, though.
Wheels
The Mavic Ksyrium Equipes are fine hoops. They're not too heavy; they don't flex, and they don't hinder control or speed through the corners. The same goes for the Mavic WTS 23c tyres, which hang on well when you're throwing the bike around bends.
Riding
It's not an intimidating bike to ride. It's not as forgiving as a Specialized Roubaix, but anyone expecting the SuperSix to feel like a carbon plank will be pleasantly surprised. You can't ignore road imperfections, but you won't lose any fillings either.
For more on Cannondale's road bike range, have a look at their site, Cannondale.com
Thank you for reading 10 articles this month* Join now for unlimited access
Enjoy your first month for just £1 / $1 / €1
*Read 5 free articles per month without a subscription
Join now for unlimited access
Try first month for just £1 / $1 / €1