Specialized Tarmac SL4 Elite review
The Specialized Tarmac SL4 Elite has the same great frame design as the old Tarmac and the same amazing ride quality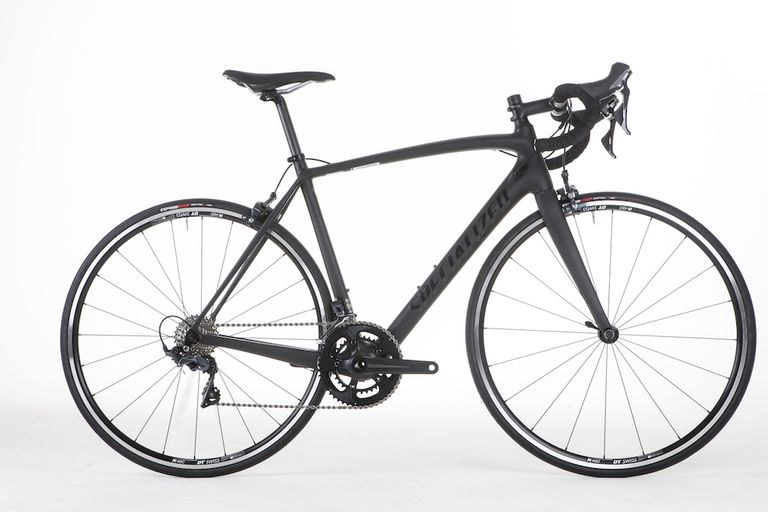 (Image credit: Cycling Studio)
Cycling Weekly Verdict
Superbly comfortable yet fast, the Specialized Tarmac SL4 Elite is easily a match for anything you'll want to do. In its standard form here it's a brilliant week in, week out ride. Throw some carbon wheels on and it'll be a bonafide alpine climber, and it's geometry means it can handle the descents too. In places it's let down by its spec list, but overall the ride quality is excellent.
Reasons to buy
+

Comfortable frame

+

Fast and performance orientated

+

Excellent saddle
Reasons to avoid
-

Some of the spec list undermines the value
Thanks to its Rider-First Engineered design, Specialized has been able to make the Specialized Tarmac Elite SL4 frame have the same ride feel and responsiveness as the highest end S-Works Tarmac. It's done by changing the carbon layup and design at every frame size, rather than simply taking a size 56 and shrinking it down or expanding it to fit bigger riders.
Of course, while it has the supposed same ride feel, the frame is not made out of the same carbon. The Tarmac on test here uses Specialized's FACT 9r carbon, which is partnered to a carbon fork up front. It doesn't have the same design as the top end models, either, forgoing the dropped seat stays, retaining the same design as the previous year's S-Works Tarmac models instead.
Specialized Tarmac: Comfortable, not slow
That was a bike that was brilliantly comfortable, so it's no surprise that this model also has a frame that's superbly supple, but not in a way that suggests sluggishness. All to often riders think of comfort as being slow, yet if there was a bike to prove this way of thinking wrong, it'd be the Specialized Tarmac Elite Sl4.
The comfortable frame still retains stiffness, and is beautifully easy to accelerate, and working hard away from traffic lights on my commutes, the bike is quick to rocket up to speed which is invaluable on busy London roads. It's a frame that's a joy to sit on all day long, yet a thrill to ride when you really want to go hard.
I always think it's a shame when a brand chooses to spec something as good as Shimano Ultegra R8000, but not completely. I've seen it on the Trek Emonda SL 6 when the sub-par Bontrager brakes were used instead of the phenomenal Shimano ones. With the Specialized Tarmac Elite SL4, it's more necessary, as the frame's BB30 bottom bracket standard can't accommodate Shimano's spindle without an adapter. On the Specialized's higher tier models, this adapter and the Shimano chainset come as standard.
The tyres are Specialized's own brand Espoir Elite, and I was initially sceptical, as in the past I've found budget tyres can give quite a harsh ride quality. Happily, the tyres ride very well. They're nice and supple and I've had no punctures, plus they roll well, never feeling grabby or sluggish.
The ride quality would be improved further still if Specialized specced 25mm tyres as standard rather than 23mm. Once use to the extra comfort and confidence of 25mm rubber, it's difficult to revert back to the now oh-so-skinny 23mm tyres.
The DT Swiss R460 wheelset doesn't cost the earth, and still performs admirably. They're not the performance orientated wheels you'd want to pair with a frame like this, but they're light (for the price), which is the most important thing. They don't feel sluggish or slow and I expected the frame to feel weighted down by them but was pleasantly surprised. Although for summer riding you'd probably want to upgrade to a pair of carbon wheels, which would be simply superb.
Happily though, this winter on my commutes, regardless of how many potholes I've slammed the rear one into whilst laden down with a backpack it remains straight and true.
A performance pusher
It's performance characteristics shouldn't be understated, and the Tarmac will happily handle anything you want to do. One longer loop of almost 100km I do in the Surrey Hills gives a bit of everything, with long sustained drags as well as climbs and descents.
When the riding group got a bit trigger happy, the bike was happy to let me sit between 250 and 300 watts for one of the longer straight drags of four or so kilometres. It was then very encouraging later on the downs, really letting me get stuck into the Ranmore Common descent. The short, 987mm wheelbase allows the bike to feel agile, while the 160mm head tube is aggressive enough to let you hug the corners.
In comparison
The Trek Emonda SL 6 is a bike of similar stature to the Tarmac Elite, albeit it £250 more expensive. For that bit more money you get an Ultegra crankset (although not the brakes) and Bontrager's tubeless ready wheelset.
Alternatively, for £1899 you could plump for the purely aluminium Cannondale CAAD12, a performance orientated bike that thanks to its metal makeup is extraordinary value, if quite stiff.