Shimano 7801 Dura-Ace SL review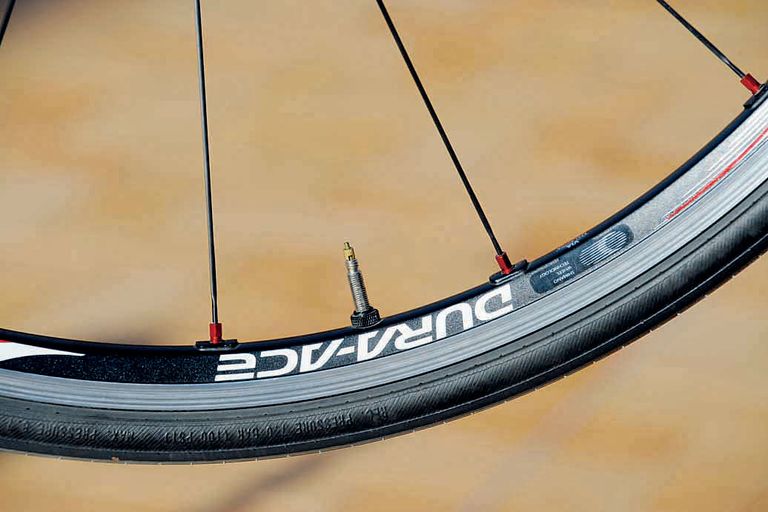 Tubeless tyres seat easily on the rim and inflated fine with a track pump. I've experienced no problems with loss of pressure, or burping air, and the benefit to the ride quality is appreciable. Even though I started by saying they're a bit porky, you really don't notice that when you ride. The Shimano 7801 Dura-Ace SL feels appreciably faster and more comfortable than a lighter clincher.
Reasons to buy
+

Tyres sit well on the rim

+

Easy to inflate

+

No burping air

+

Appreciable benefit to ride quality

+

Stiff

+
Reasons to avoid
-

Not as light as you would expect for Dura-Ace
In the Shimano 7801 Dura-Ace SL, Shimano uses scandium alloy for its 24mm-high-profile tubeless rims, allowing a good mix of light weight, stiffness and aerodynamics.
They're not as light as you would expect for Dura-Ace level kit, and to be honest, they don't look anything special either, but to counter that, the price is quite reasonable. More important is how well the wheels have lived up to the expectations of Dura-Ace performance and quality, and in this regard, they're hard to criticise.
Our test wheels are well travelled. Mike put them through their paces for some time before I even got my hands on them, and they've since survived the rigours of the Three Peaks Cyclo-Cross unscathed, and are straight as a die. The consensus of opinion is definitely a thumbs-up. Laterally, the wheels are particularly stiff, especially the rear, aided by offset spoking and sticking to a two-cross lacing pattern, which gives a pleasingly direct feel in terms of power transfer.