Rapha Nocturne hits London's streets this weekend
The Rapha Nocturne is more than just criterium racing, with an all-day festival, support events and rides creating a spectacular day and night of entertainment.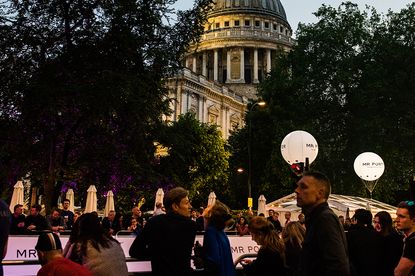 Since launching in 2007 with the Smithfield Nocturne, the Nocturne night time criterium has developed into one of the biggest circuit races in the world. Last year the event moved to a new circuit in the Square Mile, which finishes dramatically under the shadow of St Pauls Cathedral. This edition will feature plenty of British and International talent with last year's Elite men's winner, Chris Lawless, going head to head with 2015 winner, Ed Clancy.
The Rapha Nocturne Experience

June 10 | 14:00 to 22:30 | free to attend |Cheapside, City of London | Nearest tubes: St Pauls, Bank
The Rapha Nocturne is more than just criterium racing, with an all-day festival, support events and rides creating a spectacular day and night of entertainment. A unique format sees riders including folding bikes, fixed gear and amateurs racing across an action packed programme building up to the world series elite races.
Ride all day
For the first time, we're opening up the Rapha Nocturne race circuit for you to ride before the racing begins, and hosting all-ability rides from all over London which will finish on the circuit. Sign up for these free rides at rapha.cc/nocturne.
Programme
14:00 Concours d'Elegance and open rides
16:00 Penny Farthing Race
16:40 Masters Race
17:20 Folding Bike Race
17:55 Leigh Day Criterium
18:35 City Criterium
19:15 Condor Fixed Gear Criterium - Women
19:55 Condor Fixed Gear Criterium - Men
20:30 JLT Elite Criterium - Women
21:20 Elite Criterium - Men
22:15 Elite Podium presentation
22:30 Finish
A fully-barriered race circuit, music, big screens, event villages, bars and VIP hospitality area create a spectacular festival around the racing with plenty of entertainment for all the family.
To learn more visit raphanocturne.com
Rapha Village
Visit the Rapha Village and watch the racing trackside. Enjoy the Rapha Clubhouse experience in our pop-up store, where you can buy the special edition Rapha Nocturne collection.
Rider Village
Big screens, live music, food and drinks – a great place to meet the racers.
Rapha Cycling Club Corner
The Rapha Cycling Club Corner is for the die-hard racing fans, with an atmosphere to put Dutch corner to shame.
Family Area
Keep the kids busy with a range of entertainment and activities including a pump track and cycle safety training by British Cycling.
Rapha Nocturne World Series
The Rapha Nocturne will be travelling to major cities around the world, creating a new World Criterium Series which will kick off this weekend.
The 2017 Rapha Nocturne Series will take place across two cities expanding to additional cities in 2018. Each event will televised live on Eurosport with online and digital streaming to reach a global audience.
Round 1 – London: June 10
Round 2 – Copenhagen August 19
The Rapha Nocturne Series will see racers score Championship points in each city with bonus points awarded for sprints during each race. Quite simply, the rider with the most points at the end of the World Series will be crowned champion and awarded the Rapha Nocturne World Champions jersey.
"At least in my cycling career, this will be the first time we've had a series that will be ranked on an individual basis that will go internationally. That in itself is a unique thing and it's quite exciting. My team (JLT Condor) are aiming to become the world's best crit team so the Rapha Nocturne Series will provide the platform for us to achieve this – I definitely want to win the first world title."
Ed Clancy OBE – Olympic Champion.
The competition will feature riders ranging from WorldTour pros to specialist criterium racers – the playing field will be level to determine the world's best city street racer. In 2017 the World Series format will be applied to the elite men's and women's criteriums, with plans to extend this to the fixed gear, amateur and folding bike races in 2018.
Elite Men Contenders

JLT Condor (Ed Clancy, Alex Frame, Jon Mould)
Team Wiggins (Andy Tennant, Rhys Howell)
Cannondale-Drapac (Will Clarke, Wouter Wippert)
Team Sky (Tao Geoghan-Hart)
One Pro Cycling (Kristian House)
Axeon–Hagens Berman (Chris Lawless)
Maloja Pushbikers (Hannes Baumgarten)
Raleigh-GAC (Sebastian Mora Vedri)
Thank you for reading 10 articles this month* Join now for unlimited access
Enjoy your first month for just £1 / $1 / €1
*Read 5 free articles per month without a subscription
Join now for unlimited access
Try first month for just £1 / $1 / €1