Six things you forgot to buy with your Cycle to Work voucher
Now that you've spent all of your Cycle to Work money on a new bike, there are a few other things you need to buy. In association with Decathlon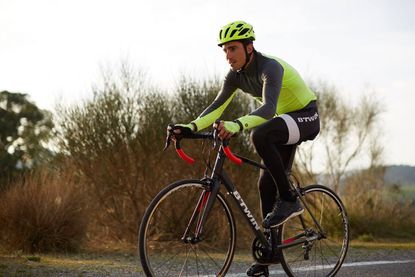 The Cycle to Work scheme is a great way to save a huge chunk of money on some new cycling kit, but the temptation is to spend as close to £1,000 as possible on a new bike (maybe factoring in £30 for a helmet) before realising that you don't have anything left over to spend on clothing and accessories.
If that's where you find yourself at this very moment then we've teamed up with Decathlon to point you to a few bits and pieces that you'll need if you're going to be riding in and out of work in comfort and style.
1. Lights
Before you know it – unfortunately – it will be the end of October, the clocks will be going back, and you'll be riding in the dark on your commute home after work.
>>> Cycling lights: a buyer's guide (video)
On well-lit urban roads then you don't need super-bright lights, just a basic set like the B'Twin 300 that will help you be seen by traffic. However, if you're taking to unlit roads on your commute then it's worth investing more, such as with a B'Twin VIOO 900 front light, which will really light up the road in front of you, illuminating potholes and other rough road surfaces to avoid.
2. Pedals
Especially if you're new to "proper" cycling, you might be surprised that your bike doesn't come with pedals (or if it does, they'll be flat pedals that we'd suggest putting straight in the bin). This is because there are numerous different pedal systems on the market for riders to choose from.
If you're just commuting then a pair of mountain bike pedals might be a good choice as they're easy to clip in and out of, and the shoes will be easier to walk in. However if you're going to be riding for fun at the weekend too, then the wider-platformed B'Twin 520 road bike pedals might be a better option as they will hold the cleat more securely and have a bigger surface area to push down against.
3. Panniers and racks
Riding with a rucksack is fine, but if your journey into work is more than half an hour or you have to carry a heavy laptop and paperwork, then using panniers attached to a rack over the rear wheel will be a much more comfortable option.
Even if your bike doesn't have eyelets to attach a pannier rack, you can get ones like the B'Twin 300 Seatpost Pannier Rack that attach to your seatpost. It's wise to invest in waterproof panniers such as the B'Twin 500s so you have no excuse for ditching the bike for the car on commutes on wet February mornings.
4. Tools and spares
Unfortunately, no matter how wisely you've spent your £1,000 on your new bike, you will still be left deflated by punctures now and again. That means that not only will you need to learn how to fix a puncture (if you don't already), but you'll also need to spend a bit of money on some inner tubes, tyre levers, and a mini pump (although you can buy these as a package if you opt for something like the B'Twin 500 Repair Set).
The only other thing that it's worth investing in is a multi tool like the B'Twin 500 that should have various sizes of Allen keys as well as a Philips screwdriver so you can do basic bike maintenance on the move.
5. Lock
Unfortunately not all employers have secure bike parking in which to store your pride and joy during the day, so if you have to lock your bike up outside then it's worth spending a bit of money on a lock. Or two.
Yes, two locks, as we'd suggest getting something like the B'Twin 700 Chain Bike Lock to put through the front wheel and the frame, and a D-Lock like the B'Twin 740 to go through the rear wheel and frame. With locks it really is a case of spend as much as you can afford.
6. Mudguards
If you've caught the cycling bug during the summer, we hope that you will continue to ride through the winter – and the key to enjoying your bike out of season is to make sure that it is properly equipped to deal with adverse conditions and wet roads.
>>> Do you really need mudguards?
There are two options here. If you've bought a road bike then you should be able to fit full mudguards that will fit close to the front and rear wheels to keep spray off your feet, legs and back. The other option, if you just want to keep your back dry, is a cheap mudguard that you strap under the saddle like the B'Twin Flash mudguard.
7. Bottle cages
The last thing that lots of people forget when buying a bike is a bottle cage. Especially if you're riding in hot weather it's vital to stay properly hydrated, so having a bottle cage is an easy way to have water closely at hand rather than having to dig around in your rucksack.
Thank you for reading 20 articles this month* Join now for unlimited access
Enjoy your first month for just £1 / $1 / €1
*Read 5 free articles per month without a subscription
Join now for unlimited access
Try first month for just £1 / $1 / €1