Eight summer cycling essentials
With summer around the corner now is the time to get your kit together so you're ready for what the Great British summer may throw at you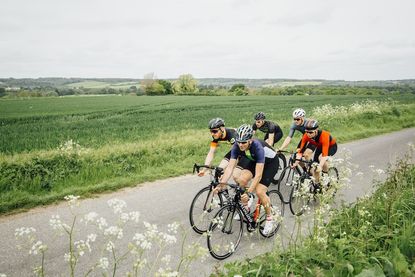 (Image credit: chris catchpole)
Promotional feature with Decathlon
After months of damp rides and staring at the wall while on the turbo trainer, the warmer weather is finally starting to show itself.
However, after gearing up on bib tights and neck warmers you might find that you're running short on shorts.
Well worry no more as we've put together this list of summer cycling essentials to ensure you're ready to get the guns out when the sun's out.
Our summer cycling essentials
Helmet
B'Twin Aerofit 900 road cycling helmet
Having a helmet that is lightweight, aero and well ventilated is pretty hard to come by but B'Twin claims to have produced just that.
The Aerofit 900 is constructed using a In-Mold moulding technology to ensure that it's both lightweight and structurally secure.
Keeping a cool head is vital in the hot summer months, where risk of overheating could lead to you bonking on a ride or worse. B'Twin claims the Aerofit 900 weighs 260g (medium) which makes the price tag even more enviable.
>>> Buy now from Decathlon for £39.99
Bib Shorts
B'Twin 900 bib shorts
Out go the bib tights and in come the shorts. This pair from B'Twin offers top quality bib shorts for a more accessible price point. Having worked in conjunction with pro team FDJ in the past, B'Twin has worked with some of the sport's leading riders in Thibaut Pinot and if they are good enough for his derrière than we can't complain.
>>> Buy now at Decathlon for £39.99
Jersey
B'Twin Aerofit Mesh short sleeve jersey
Keeping cool isn't exclusive to just your noggin, as B'Twin shows with this super lightweight mesh jersey.
A mesh construction allows for a much more effective moisture wicking than regular jerseys making it perfect for when things get hot under the collar.
The close cut fit also makes it a good jersey if you want something more aerodynamic too, cutting those valuable seconds off those personal bests set clad in winter gear.
>>> Buy now from Decathlon for £39.99
B'Twin 100 short sleeve jersey
Alternatively, if you're looking for a jersey that is a bit more relaxed in both fit and price, then the 100 jersey from B'Twin is the perfect match.
Costing less than a fiver, this is a great buy for anyone who is buying their first jersey, a spare one for training or if you're just on a tight budget. The material also allows for a decent moisture wicking, ensuring you won't be drenched in the summer sun.
>>> Buy now at Decathlon for £4.99
Socks
B'Twin 500 cycling socks
Swap out those fleece foot warmers for these lightweight socks and let your feet breathe in the summer. While socks may not appear essential, keeping your feet feeling comfortable is key to a good ride.
Having sodden wet feet in the winter is no fun and there's not much change when your feet are drowning in their own sweat.
>>> Buy now at Decathlon for £3.99
Jacket
B'Twin 900 ultralight road cycling rainproof jacket
We all know what the British 'summer' is like. That's why we decided that a good inclusion is a neat packable mac like this one from B'Twin.
Perfect to pack down and stowaway in one of your rear pockets for those sudden and unfortunate downpours. While it may not be as heavy duty as a full on waterproof, this jacket is perfect for getting you home from a ride that started sunny but ended up being wet.
>>> Buy now at Decathlon for £29.99
Eyewear
Kalenji 700 Sunglasses
Whether it's all about looking cool or keeping the sun from blinding you, sunglasses are an integral piece of kit for the summer.
These Kalenji sunglasses are a top choice, looking effortlessly cool they are also designed to stay on your face regardless of how many bumps in the road you ride over. Kalenji shows you don't need to spend a lot of money to get quality eye protectors.
>>> Buy now at Decathlon for £15.99
Shoes
Shimano RP5 SPD-SL road shoes
>>> Read our full review of the Shimano RP5 SPD-SL road shoes here
>>> Buy now at Decathlon for £67.99
Having shoes that cater to your feet means shoes that are stiff yet great fitting and allow your feet to breathe.
A good example of this is the Shimano RP5 road shoes. With a huge vent on the front and several dotted around, these make sure you won't have pongy feet come the end of a long ride.
That coupled with the super stiff carbon sole and secure ratchet fitting make this a solid choice for the summer cycling essentials.
Thank you for reading 10 articles this month* Join now for unlimited access
Enjoy your first month for just £1 / $1 / €1
*Read 5 free articles per month without a subscription
Join now for unlimited access
Try first month for just £1 / $1 / €1