Five of Europe's best cycling trips to take this spring
Cycleplan have produced this list of awesome Spring cycling trips in Europe including Burgundy, Lanzarote and Sardinia!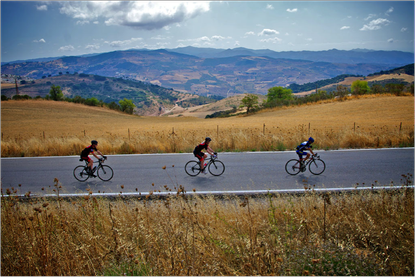 This content is made in association with Cycleplan
As a regular cyclist, the start of the year can be tremendously frustrating. Gloomy weather, hazardous roads and a sheer lack of motivation that dark clouds and cold brings. Of course, you can wrap up warm, wear insulated and breathable clothing or even adapt your route to ride on less perilous roads – but that may still not make it enjoyable.
>>> Best cycling holidays
But while Spring is still getting started, why not escape the weather by visiting some of Europe's most exciting cycling routes? We've come up with a few suggestions for amazing (and warm) cycling holiday destinations:
Lanzarote, Spain
Lanzarote has become a hotbed for cycling holidays in recent years thanks to its lack of traffic and silky smooth roads. Seasoned amateurs and even professional riders have been known to make the trip to the Canaries throughout the cooler months of the year. There are some unbelievable routes to take on in Lanzarote with some spectacular views, even one that takes you through La Corona nature park and right past Volcano La Corona – Lanzarote's largest tourist attraction.
http://www.mollydoo.com/holidays/lanzarote-cycling-camp
Burgundy, France
The stunning 350-mile canal circuit through one of France's world-renowned wine regions is perfect for a week's cycling holiday. In-between sumptuous cheese and wine tasting, you'll enjoy canal-side cycling in amazing scenery.
http://www.veloasia.com/country/france/
There's also plenty of time to stop off at the many vineyards, villages, chateaux, grand cathedrals and ancient churches along the hilly route. Small, picturesque towns like Autun, Bazoches, Beaune, Dijon and Vezelay will all provide a perfect respite for you between rides.
Sardinia, Italy
Next up is the magnificent island of Sardinia, just off the coast of Italy. Featuring limestone ridges, deep gorges and breathtaking white sand beaches surrounded by crystal-clear blue seas, you'll have gorgeous scenery a-plenty to look at while riding around this wondrous island.
The idyllic island boasts several exciting cycle routes featuring ancient ruins, abandoned mines and even colonies of pink flamingos, found in Sardinia's riveting Sinis wetlands. Plus, having worked up quite the appetite, you'll be delighted by Sardinia's unique and wonderful cuisine.
http://www.biketoursardinia.com/old-mines-cycling-tour/
Reims, France
Reims, the 'City of the Coronations' is famous for its art and history, with plenty to see and do! The Notre Dame cathedral is one of the most breathtaking gothic monuments in Europe. Take in the 100s of miles of unspoilt French countryside and stop off at as many of the region's vineyards as you can.
The terrain is generally quite flat, with a few sparse hills to keep you on your toes. There's also the famous Champagne tourist route through the traditional hillside villages.
http://www.reims-cathedral.culture.fr/plan-elevation.html
Andalucia, Spain
Last, but by no means least is Andalucia in southern Spain, an excellent destination for cyclists looking to get properly prepared for the new season. The weather is bright and warm, with Spring temperatures averaging between 16 and 23 degrees – ideal for riding!
The area is frequently visited by the Vuelta de Andalucia and Vuelta de España, therefore proving the class of the routes and stunning surrounding areas! Here you can cycle through car-free olive orchards and sherry-making vineyards. Or even take on the challenging Andalucian hill climbs, before finishing your day with a delicious Andalusian paella.
http://www.cyclingcountry.com/CycleTours/RoadCycling/RoadBikingSpain.htm
We believe it goes without saying that all cyclists should protect themselves from the many hazards faced in Europe, and Cycleplan offer the best insurance around. Their policies cover Public Liability, Personal Accident, Theft, Loss and Damage of Equipment: Get your instant quote online today.
Plus: 0% APR on policies with premiums over £50, European and Worldwide cover, multiple bikes and accessories all on one policy, a Lowest Price Guarantee & an EXCLUSIVE Cycling Weekly 25% introductory discount!
Thank you for reading 20 articles this month* Join now for unlimited access
Enjoy your first month for just £1 / $1 / €1
*Read 5 free articles per month without a subscription
Join now for unlimited access
Try first month for just £1 / $1 / €1