10 reasons to take on a charity ride
Whether you're an aspiring pro, or just cycle for leisure, at some point you'll hear that little voice in the back of your head asking whether you're tough enough to take on an endurance challenge.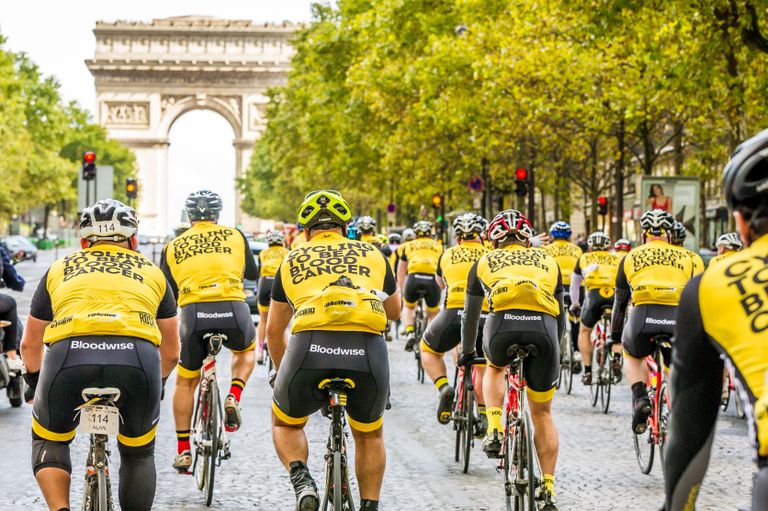 Promotional feature with Bloodwise
#6 – Be part of the pack
#1 – It's the chance to experience the life of a pro-rider
#2 – Ever ridden on truly closed roads?
There's nothing quite like seeing 250 riders heading towards the Arc de Triomphe! Memories of those grand moments – like setting off from London, the hills and hedgerows of northern France, and of course, the Champs-Elysees – will last a lifetime.
This September 250 riders will take on the Bloodwise London | Paris over four epic days, in support of blood cancer research. If you're thinking about taking the plunge, we'll tell you why taking on an endurance ride will be the best decision you'll ever make.
#7 – You'll make lasting friendships
#8 – It's an unforgettable thrill
It's not just about those big epic experiences. It's about chatting to your teammates over a cup of tea. Sharing a joke at a break stop. There's a unique team spirit  and a lot of heart on this kind of ride. Some people you'll meet will have a connection to blood cancer, others won't – but everyone's riding together under one flag and doing their bit to support a fantastic cause. Riding for yourself is one thing, but riding for others adds a whole extra level of motivation – it's a truly special feeling.
Sign up now at bloodwise.org.uk/london-paris
You might have all the best cycling gear and ridden in sportives all over the country – but if you're looking for the ultimate pro experience then you need to try it on consecutive days. On a four day ride, you really find out what being a pro on the tour is all about. Sure, there might be aches and pains – but there's also the thrill of knowing you overcame them!
Plenty of people have ridden on closed roads at RideLondon (which actually means sharing with thousands of others riders you don't know) – but have you ever experienced over 400km of rolling road closures? This is where motorcycle outriders flank the peloton and hold back traffic so the road is exclusively owned by you and your teammates. That includes the final stretch, where Bloodwise shut down the Champs-Elysees in Paris for a full four minutes!
#3 – You might be king of the mountains…
At its heart the Bloodwise London | Paris is all about the team effort – but that doesn't mean they don't encourage a bit of good natured competition! Every bike is fitted with a tracking chip as the ride begins, meaning that you'll get to show your teammates who's top dog every day on time trial and hill climb sections.
Some people are put off by the thought of having to cycle in close proximity to others. But once you've shaken off the nerves you'll love it, and being part of the peloton and watching out for each other is an awesome feeling. Not only that, but you'll get to attend training days with experts beforehand, so you'll be completely prepared for the pack.
Some riders decide to take on London | Paris alone, others arrive as part of a team – but one thing's for sure – everyone is firm friends by day four. I mean, how well can you really know someone until you've hugged them under the Eiffel Tower after four epic days of sun, wind and rain?? If you have friends who cycle, bring them along and share the experience together. But don't be put off if it's just you on your own – charity cyclists attract some of the friendliest people around and you'll get plenty of encouragement.
After four days of cycling it's time to let your hair down and reward yourself for all that hard work! Nothing beats the sheer elation of the finishing line, the popping of corks against the backdrop of the Eiffel Tower. And the celebrations continue long into the night at the Paris gala dinner, hosted in a top hotel, where you'll toast your achievement, exaggerate the hills, and promise to come back with bells on next year!
Are you convinced yet? If so, you'll have to be quick – there are just a few slots left to take on the Bloodwise London | Paris 2018.
#4 – You'll be backed up by the best
Sign up now at bloodwise.org.uk/london-paris
 #9 – But you'll be touched by the smaller moments
Punctures... unfortunately there's just not a lot you can do to prevent them. But you wouldn't expect riders on the tour to have to change their tyre at the side of the road – and it's the same for a charity ride. If you're unlucky enough to get a flat tyre, there's no need to fumble around with an inner tube. You'll hear the mechanics' support vehicle screech to a halt beside you, and they'll have your wheel swapped and you towed back to the peloton in minutes.
 #5 – That's not to mention the physios!
Their team of expert physios are unsurprisingly incredibly popular with our cyclists. Driving ahead to each stop, they're set up before the riders arrive – ready and waiting to make sure everyone's in peak physical condition ahead of the next leg of the ride.
#10 – The final celebrations are truly epic