Cube Litening C:62 Pro review
A race bike that doesn't cost the earth, the Cube Litening C:62 Pro is a great option for those looking for a fast bike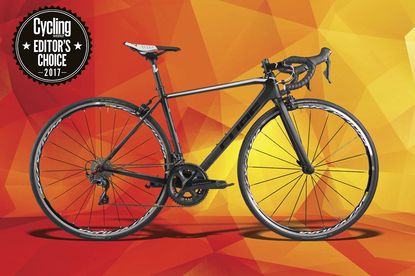 The Cube Litening C:62 Pro is a proper racer without the draw dropping price tag - we enjoyed its racing geometry but relished the fact that the bike is relatively comfortable for how fast it feels and goes.
What helped us decided this bike should be given Editor's Choice status is that its equipped with Shimano Ultegra R8000 groupset and Mavic Elite Ksyrium wheels that both feature in the awards. A fun, fast bike that won't kill your back or your bank.
German brand Cube makes everything from multitools and pumps through to kids bikes and mountain bikes so it always impresses us that it's possible to spread yourself so thinly yet still produce such superb race bikes that are ridden at Grand Tour level. The C:62 Pro is Cube's thoroughbred racing machine and is a more affordable version of the Litening C:68 that was ridden in the Tour de France this year by Wanty-Groupe Gobert.
Brilliant spec
The Cube Litening C:62 Pro features the brand new Shimano Ultegra R8000 groupset and Mavic's Ksyrium wheels bringing the bike in at 7.3kg - astoundingly light at this price. Both of the above products feature in our Editor's Choice awards too, so you're definitely getting bang for your buck.
Cube's in-house Newmen brand supplies the finishing kit to a high standard. Compared with some of Cube's bikes - for example, the sky-blue Wanty team bike with the bright orange bar and stem - the C:62 Pro is understated in terms of its paint job, which it calls 'blackline' but underneath lurks a big, loud, bright performance.
The Cube Litening C:62 Pro sits well under £3000 making it a very good value option considering how it performs. A large, square-profiled down tube takes care of much of the stiffness, along with a oversized bottom bracket and beefy head tube to help you to lay down some decent watts. The straight but slender rear stays, along with the Conti Grand Sport Race tyres give plenty of road feel as well as helping reduce road buzz and aid compliance, which is exceptional on this bike considering how aggressive the setup is.
Skip in its step
What you really notice when out on the road is how zippy the handling is. It excels at making your feel racey and fast. Cube provides a pretty short stem and narrow handle bar that will help its nippy handling. Thankfully you get all this without taking a beating from the road – it's a fast bike with sensible vibration control.
We concluded that it is exactly that racy design that makes the C:62 Pro such a great-handling machine - it's fun, responsive and great-feeling when you're pushing it on long, sweeping bends. If you like a subtle look with a loud and proud performance the Cube Litening C:62 Pro could be the one for you.
Thank you for reading 10 articles this month* Join now for unlimited access
Enjoy your first month for just £1 / $1 / €1
*Read 5 free articles per month without a subscription
Join now for unlimited access
Try first month for just £1 / $1 / €1