Air of mystery surrounds World Cycling Championship belt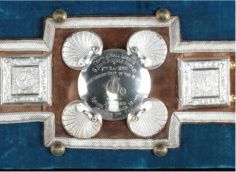 An air of mystery surrounds a World Cycling Championship belt that is being auctioned on Tuesday (September 13).
The plated metal belt was awarded to J.W Lamb who rode over 1015 miles, at the six-day London Bicycle Contest in May 1892.
John Anderson, from auctioneers Anderson & Garland, described the piece as a "striking piece of silverware". It measures 33-inches long and is contained in a glazed display case.
Interestingly, the vendor has no knowledge of how it came to be in his family's possession.
Picture credit: Anderson & Garland
Furthermore, there is little information in the Cycling Weekly archives recording the events of the race, or detailing Lamb himself.
There is a preview of the "contest" in the May 7, 1892 issue of Cycling magazine:
"Several well-known cyclers [sic] were present at the start of the six days' bicycle race at the Central Hall, Holborn on Monday morning last. There were eleven starters, and a twelve miles-an-hour gait was set, Lamb reeling off the first ten miles in 50 minutes. A faster pace than this is almost impossible, as the track is narrow, fifteen laps to the mile and by no means well laid. The race concludes at 11.30pm. There is to be £1,000 to the man who does 1,000 miles (a pretty safe offer, we imagine), and every man has got to cover 150 miles per day or be ruled out of the race."
The following week's magazine, which came out a week after the race finished, contains just a paragraph.
"J.W Lamb, the winner of the six days' professional contest at the Central Hall, Holborn, last week, rode a Crypto geared ordinary, and his performance on such a track, under such circumstances, was certainly a good one."
Lamb rode 1015 miles and 10 laps in the race.
The belt is valued between £500 and £800; more information can be found by clicking here (external link).
Thank you for reading 5 articles this month* Join now for unlimited access
Enjoy your first month for just £1 / $1 / €1
*Read 5 free articles per month without a subscription
Join now for unlimited access
Try first month for just £1 / $1 / €1
Nick Bull is an NCTJ qualified journalist who has written for a range of titles, as well as being a freelance writer at Beat Media Group, which provides reports for the PA Media wire which is circulated to the likes of the BBC and Eurosport. His work at Cycling Weekly predominantly dealt with professional cycling, and he now holds a role as PR & Digital Manager at SweetSpot Group, which organises the Tour of Britain.