Alex Dowsett ready for first Grand Tour solo time trial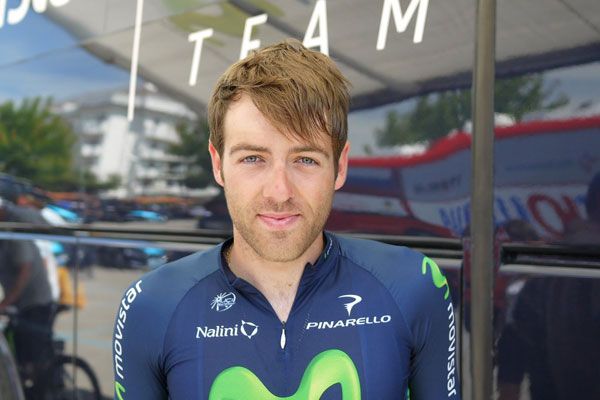 Alex Dowsett faces his first individual time trial in a Grand Tour today when the Giro d'Italia's Saltara stage kicks off. The Movistar rider from Essex starts will start off in Gabicce Mare and face a 54.8-kilometre solo test against the clock.
The distance is nothing new, he rode a 50-mile or 80-kilometre test at 15 years old but the setting is. Dowsett is a week into his first three-week Grand Tour.
"Everything's just a bit bigger, the crowds are unreal. In all the towns we went through, they seemed to be five to ten deep and the noise was amazing. There is just more razzmatazz," Dowsett told Cycling Weekly yesterday.
"Also the riders. I took myself to Majorca for a couple of weeks; I worked hard leading up to this. I thought I upped my game, which I have, but so has everyone else. It's like I'm still at the same level because everyone's upped his game for this. Everything's three to four kilometres an hour faster."
Going the distance
Dowsett raced week-long stage races before, but never one that spanned three weeks and around 3500 kilometres. After some initial doubts, he hopes to have found his footing.
"After that 240k stage, I was in a pretty dark place that evening. It was more that I was there thinking that I'm only four days in and I'm bloody tired already," added Dowsett.
"It's mind over matter, partly, but the other part of me thinks that I've been this tired already four days into a five-day stage race so it's all relative. We've had a couple of easier days, albeit with hectic finishes. I've come around quite nicely. I'm settling into the race."
Something for everyone
Today's 54.8-kilometre time trial in Le Marche should suit the British champion. In a similar test at an international-level, he placed eighth in the World Championships last year.
Dowsett, however, has never looked down a start ramp with a week's worth of racing behind him and two weeks ahead.
"The team's been good for me, they know it's something I want to attack and they've got faith in me," Dowsett explained.
"I haven't done any work, just saving me for this. I'm in as good as shape as I can be for it, but a time trial in a stage race is very different to a one-day time trail because your legs feel very different with the constant miles you've done. Sometimes you are not riding as hard as your can, but as hard as your legs let you with little cramps, and all that."
Giro d'Italia 2013: Previews and race info
British riders at the 2013 Giro
Giro d'Italia 2013: Coverage index
Giro d'Italia 2013: British TV schedule
Giro 2013: 10 things you need to know
Giro d'Italia 2013: The Big Preview
Giro d'Italia 2013: Stage reports
Stage seven: Wiggins crashes as Hansen wins
Stage six: Cavendish wins stage six of Giro
Stage five: Degenkolb avoids crash to take win
Stage four: Battaglin sprints to first Giro stage win
Stage three: Paolini takes charge
Stage two: Sky wins team time trial
Stage one: Cavendish wins opener
Giro d'Italia 2013: Photo galleries
Photos by Graham Watson
Stage seven gallery
Stage six gallery
Stage five gallery
Stage four gallery
Stage three gallery
Stage two gallery
Stage one gallery
Team presentation gallery