Armstrong switches to triathlon after Tour Down Under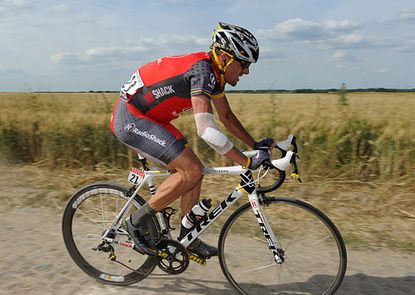 Lance Armstrong has confirmed that he will take part in a triathlon in New Zealand directly after his final international professional cycle race at the Tour Down Under, Australia, in January 2011.
Armstrong will make his return to triathlon at the Eves Blue Lake Multisport Festival in Rotorua on January 30, a week after the final stage of the 2011 Tour Down Under.
Organisers of the event confirmed Armstrong's participation in the event after a comment made by someone calling themselves Juan Pelota on Twitter. It is believed that Pelota is an alter-ego of Armstrong's.
Pelota, whose Twitter biography says "Grew up idolizing The Big 4. They used to call me Junior. Retired. Raisin' 5 kids. I swim, I bike, I run. I travel. I fight cancer. And I like cold beer", tweeted on Thursday "I'm thinking the first tri is here... 38°12′S 176°20′E".
The co-ordinates correspond to the Rotorua event. The organisers then contacted Armstrong's media representative who confirmed the Texan's participation.
In October, Armstrong announced that the 2011 Tour Down Under would be his final professional bike race outside the USA. The seven-time Tour de France winner is currently the subject of an on-going investigation into alleged doping practices during his cycling career.
The 2011 Santos Tour Down Under is an six-stage race based in and around Adelaide, South Australia. The race kicks off on Tuesday January 18 in Mawson Lakes and concludes with a circuit-based stage around Adelaide on Sunday January 23. A one-day warm-up race, the Cancer Council Classic, takes place on Sunday January 16.
Related links
European trip suggests Armstrong doping probe is moving ahead
Tyler Farrar to ride Tour Down Under
Thank you for reading 20 articles this month* Join now for unlimited access
Enjoy your first month for just £1 / $1 / €1
*Read 5 free articles per month without a subscription
Join now for unlimited access
Try first month for just £1 / $1 / €1