Becky James becomes sprint world champion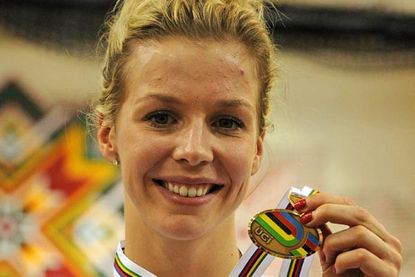 Britain's Becky James became world champion today, riding with a maturity and confidence that belied her years to take the women's sprint title, grasping the baton from last year's winner Victoria Pendleton who retired after the Olympcis.
The 21-year-old adds the gold to her two bronze medals from the team sprint and 500m time trial, and tomorrow she rides the kierin in an attempt to win a fourth medal - something only Anna Meares has achieved
James's first senior world title came from a two one win over Germany's Kristina Vogel, said to be one of the smartest match sprinters on the women's circuit.
The Briton won the first race leading from the front but Vogel got the better of her in the second by jumping past at the bell. It was the first time anyone had come close to James, let alone beaten her. Going in to the deciding race James kept her cool, pinned Vogel to the top of the track before leading out the sprint and staying ahead. It was close, as was the second race, but James held on to win.
"I've never beaten her before and if I think about it too much it messes with my head." James said of her thoughts before the final. "I just thought about it being another race, I didn't think about it being a world championships that I wanted to win, and I stayed pretty calm."
James, who hails from a cycling family in Abergavenny, has been racing since her early teens and was fast tracked on to British Cycling's junior program when she was still a youth rider.
But when she turned senior she struggled with the transition. Illness and injury interrupted her training, but more frustratingly constant stomach pains afflicted her when she trained especially hard. It never allowed her to train consistently and her performances suffered.
Then in early 2012 she had her appendix removed and since then has enjoyed her most consistent training period. She did however admit to having her doubts over her future. "You always have those thoughts," she said. "It was hard when the Olympics were on but it just gave me more motivation, seeing people winning it makes me want to be up there winning as well. I'm so glad I kept up the training and trained hard this past year."
"It is really tough but we have so much support from the coaches and support staff at BC and my friends and family. They all believe in me and have kept me going."
This was no easy win in a post Olympic lull either. With Pendleton and Simona Krupeckaite retiring, only Anna Meares was missing. James was simply the fastest on the track, qualifying fastest and posting the faster times over the last 200m of her races. Ally that with her racing head and you have what sprint coach Jan Van Eijden is already calling the complete package.
Kenny seventh in disappointing sprint campaign
Jason Kenny was knocked out of the men's sprint competition in the quarter finals by New Zealand's Sam Webster. The Olympic champion finished third in the 5-8 final, but he was not up the high standard he is used too.
He also came up against a flying Kiwi, part of a team that is now a real force to be reckoned with in sprinting. Webster proved too strong for Kenny - who had won the keirin title the night before - beating him two races to nil.
19-year-old Jon Dibben improved his omnium position today by winning the scratch race and performing well in the pursuit and kilometre. With nothing to lose the 19-year-old British Cycling Academy rider was active throughout the scratch race and took a lap on the bunch with Belgian Jasper De Buyst. As the race then split in the final laps, Dibben distanced the Belgian and won the race.
He finished eighth overall on 49 points, Aaron Gate of New Zealand won with 18 points in what was his first major championships. Behind him were Olympic champion Lasse Hansen (Denmark) and defending world champion Glenn O'Shea (Australia).
Jarmila Machacova won the women's points race by one point after a gutsy last 15 laps from Mexican Sofia Arreola. Machacova was leading coming in to the last sprint, but reduced to following wheels at the back of the bunch as Arreola went on the attack. Having to win the final sprint to take gold, the Mexican couldn't quite get past last years winner Anastasiya Chulkova (Russia) who was riding for a minor place. Former road world champion Giorgia Bronzini won bronze.
Laura Trott goes in to the second day of the women's omnium in third place, five points behind America's Sarah Hammer. Trott was third in the flying lap, but could only manage 10th in the points race. She came back to win the elimination race with yet another masterful display of bunch riding. Her strongest event, the 500m tt is tomorrow, but Hammer may have the beating of her in the individual pursuit being five time world champion in the discipline. This will make the scratch race crucial, with Hammer likely to mark Trott out of it.
Results
Women's sprint
Gold medal final
1. Becky James (GBr) 2
2. Kristina Vogel (Ger) 1
Bronze medal final
3. Wai Sze Lee (HKg) 2
4. Shuang Guo (Chn) 0


Women's points race
1. Jarmila Machacova (Cze) 30pts
2. Sofia Arreola (Mex) 29pts
3. Georgia Bronzini (Ita) 22pts
4. Wan Wong (HKg) 22pts
5. Kirsten Wild (Ned) 17pts
Other
8. Dani King (GBr) 8pts
Men's omnium
Overall
1. Aaron Gate (NZl) 18pts
2. Lasse Hansen (Den) 21pts
3. Glenn O'Shea (Aus) 22pts
4. Lucas Liss (Ger) 36pts
5. Tim Veldt (Ned) 38pts
Other
8. Jon Dibben (GBr) 49pts
Flying lap
1. Aaron Gate (NZl) 13.109 secs
2. Lasse Hansen (Den) 13.121 secs
3. Glenn O'Shea (Aus) 13.173 secs
4. Lucas Liss (Ger) 13.183 secs
5. Artur Ershov (Rus) 13.323 secs
Other
11. Jon Dibben (GBr) 13.587 secs
Points race
1. Glenn O'Shea (Aus) 18pts
2. Lasse Hansen (Den) 14pts
3. Vivien Brisse (Fra) 13pts
4. Unai Elorriaga (Esp) 12pts
5. Ho Ting Kwok (HKg) 10pts
Other
11. Jon Dibben (GBr) 5pts
Elimination race
1. Tim Veldt (Ned)
2. Aaron Gate (NZl)
3. Glenn O'Shea (Aus)
4. Lucas Liss (Ger)
5. Ho Ting Kwok (HKg)
Other
9. Jon Dibben (GBr)
4km Individual pursuit
1. Aaron Gate (NZl) 4:21.607
2. Lasse Hansen (Den) 4:22.736
3. Artur Ershov (Rus) 4:25.922
4. Glenn O'Shea (Aus) 4:26.376
5. Jon Dibben (GBr) 4:28.674
Scratch race
1. Jon Dibben (GBr)
2. Jasper De Buyst (Bel)
3. Ho Ting Kwok (HKg) -1 lap
4. Lucas Liss (Ger) -1 lap
5. Aaron Gate (NZl) -1 lap
kilometre time trial
1. Aaron Gate (NZl) 1:02.271
2. Lasse Hansen (Den) 1:02.437
3. Lucas Liss (Ger) 1:02.949
4. Tim Veldt (Ned) 1:03.200
5. Glenn O'Shea (Aus) 1:03.625
Thank you for reading 5 articles this month* Join now for unlimited access
Enjoy your first month for just £1 / $1 / €1
*Read 5 free articles per month without a subscription
Join now for unlimited access
Try first month for just £1 / $1 / €1