Boardman: it's decision time for Geraint Thomas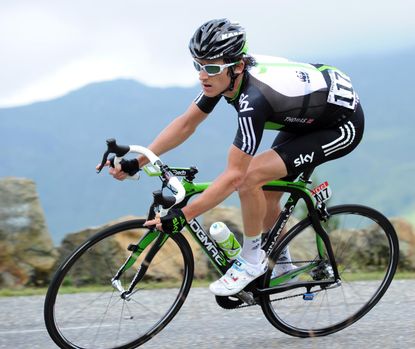 Geraint Thomas can be a GC rider in the Tour de France, but he must make a fundamental decision about the direction of his career - now - Chris Boardman has told Cycling Weekly.
Talking to CW for an expert column that will appear in the magazine on Thursday, Boradman said, "He's got a big career decision to make now. He could be a super-domestique always in the service of somebody else and being really good at it - like Mark Renshaw. Or he could go and be a GC rider and stage-winner in his own right."
Boardman believes that Bradley Wiggins's absence gave him the experience to be able to make this kind of decision, and that he could have finished considerably higher than the thirty first position he eventually achieved.
"I think that if this year had been really focused on himself for the GC he would've been at least top twenty, maybe top 10 or 15," he said. "On it's own that isn't worth a great deal. It's better for him to do what he did and try lots of things he couldn't do when Brad was there."
Evans was a deserved winner, according to Boardman, with his form clear even from the first week.
"Evans was dogged and tenacious throughout. When you've got good legs, you're in good shape and in the right shape of mind then you get top 10s, and that's what he did," he said. "I think you can see that amongst the chaos there are some constants. When you get the same people coming out top then it's a formula. Even on those punchy climbs [in the first week] it comes from the same attributes that you need in the big mountains."
Boardman also outlined his opinions on this year's race generally, echoing many commentators' opinions that this year's race was one of the best ever.
"I think it contained one of the best stages if not the best I've ever seen - the stage to the Galibier. It was an incredible chase by Evans pretty much unaided - him versus Schleck. The organizers got what they wanted - a crescendo. It brought out a best in the contenders," he said.
"If there was one disappointment in the race it was probably that the Pyrenées didn't quite live up to their billing, but credit to the organizers - it was the best route that I've seen," he continued. "It produced everything from technical to physical tests,"
Boardman's expert column will appear alongside opinions from Cédric Vasseur and Sean Kelly in the next issue of Cycling Weekly - out on Thursday 28 July.
Thank you for reading 20 articles this month* Join now for unlimited access
Enjoy your first month for just £1 / $1 / €1
*Read 5 free articles per month without a subscription
Join now for unlimited access
Try first month for just £1 / $1 / €1