Cancellara has Liege and Lombardy in his sights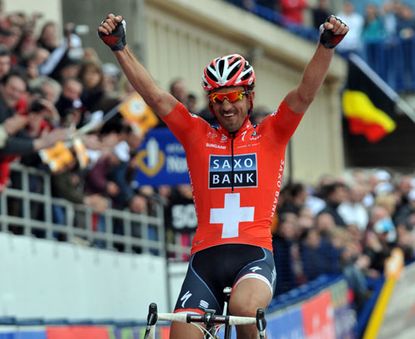 Swiss Fabian Cancellara is keeping his dream of winning all five monuments alive. Tuesday in Belgium, he underlined his priority of collecting the two missing races: Liège-Bastogne-Liège and Tour of Lombardy.
"I won't give up on the pavé, but I want to win Lombardy and Liège," Cancellara said. "Doing the same things you lose motivation, I need new challenges."
If Cancellara won the challenge, he would become the first modern star to win all five Monuments and join an exclusive group that includes only Belgians Roger De Vlaeminck, Rik Van Looy and Eddy Merckx.
Five of the oldest and most respected one-day races form cycling monuments: in order, Milan-San Remo, Tour of Flanders, Paris-Roubaix, Liège-Bastogne-Liège and Tour of Lombardy. Lombardy is the only race that is in the autumn, in October, San Remo is in March and the other three are in April.
Cancellara won his first monument in 2006 when he attacked solo over the French cobbled roads that form the Paris-Roubaix. In 2008, he won Italy's Milan-San Remo with a solo attack from two kilometres out. This year, he won Belgium's Tour of Flanders with a solo attack and a week later, Paris-Roubaix for a second time.
Liège and Lombardy, however, will be more challenging for Cancellara to win. They feature longer climbs that are closer to the finish.
"It's nice that a champion like him raises the bar and looks for new challenges," Luca Guercilena told La Gazzetta dello Sport. Guercilena is one of Cancellara's sports directors at the new Luxembourg-based team.
"Of the two monuments that are missing, Liège is technically more 'accessible' than Lombardy, the latest route with Sormano is really hard. Not that Fabian is unable to overcome that kind of climb, but the point is in how he does it. In general, Fabian weighs about 80 kilograms and he has to work on this. Lombardy is at the end of the season and we would have more time to set a specific programme, while between Roubaix and Liège there are only two weeks."
Former Italian professionals Michele Bartoli and Moreno Argentin both won the Flanders cobbled classic and the hillier Liège and Lombardy races. They weighed in on the possibility of Cancellara winning Liège and Lombardy.
"Fabian is a friend, but I am not convinced," said Bartoli.
"I would be difficult for him to stay with the climbers in Liège and Lombardy, with the Sormano and Redoute climbs. A hard Worlds course is another matter because it is raced on a circuit and maybe the first laps are raced lightly."
Thank you for reading 20 articles this month* Join now for unlimited access
Enjoy your first month for just £1 / $1 / €1
*Read 5 free articles per month without a subscription
Join now for unlimited access
Try first month for just £1 / $1 / €1