Cavendish joins fans for Hog Hill ride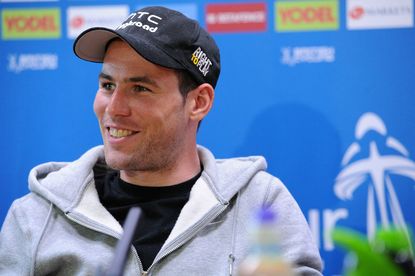 Mark Cavendish delighted a lucky set of riders on Monday morning as he joined them for a 20km ride around the Redbridge Cycling Centre to promote Holiday Inn.
As a part of the hotel chain's Athlete Engagement Programme, the world champion showed off his new rainbow jersey to around 100 fans who had applied online and needed no persuading to make the trip down to the Hog Hill circuit at 8am on a Monday morning.
He rode 20km around the circuit with cyclists ranging from regular racers on road machines to leisure cyclists on tourers and mountain bikes. It was intriguing to see how the event would work with so many fans all eager to get up close with their hero, many wearing their new HTC-Highroad green and rainbow jerseys.
However, fans gave Cavendish plenty of space around the circuit, and Cavendish responded by riding a gentle pace and taking the time to sign autographs and pose for photos. Whether or not this was partly down to fans' fear of bringing down the greatest sprinter of his generation, such mutual respect between a sporting celebrity and his fans was refreshing to experience.
The event was part of a hectic off-season schedule for Cavendish, who had recently returned from a holiday, an Arctic Monkeys gig and a track day at Silverstone, and was heading off immediately to a shoot with Sport magazine.
With an impending move to Essex and a new baby due in spring, racing could understandably seem a long way away. Yet with rival teams no doubt plotting how to overhaul him and Team Sky in the sprints, and given the noticeable presence of major UK print and television media at Monday's event, the build-up to Cavendish's Olympic year may have already begun.
Related links
Cavendish announces he's to become a father
Thank you for reading 10 articles this month* Join now for unlimited access
Enjoy your first month for just £1 / $1 / €1
*Read 5 free articles per month without a subscription
Join now for unlimited access
Try first month for just £1 / $1 / €1
Richard Abraham is an award-winning writer, based in New Zealand. He has reported from major sporting events including the Tour de France and Olympic Games, and is also a part-time travel guide who has delivered luxury cycle tours and events across Europe. In 2019 he was awarded Writer of the Year at the PPA Awards.