Chris Boardman calls for clear national vision in cycling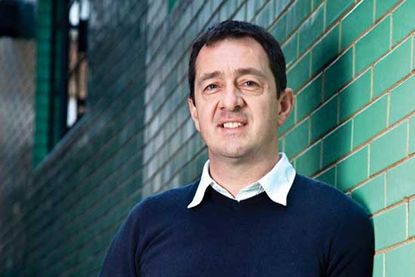 Chris Boardman MBE told MPs today we need clear national vision, measurable goals and funding to get more people cycling.
Boardman was among experts speaking at today's fourth Get Britain Cycling evidence session, focussing on health and recreation, cycling to work and school, and the role of sport in inspiring cycling.
Speakers from NICE, Natural England, the Department of Culture Media and Sport and the Forestry Commission among others gave evidence to members of the All Party Parliamentary Cycling Group.
1992 Olympic gold medallist Boardman said the summer's sporting successes were an advert creating a demand for cycling, and now we needed to "keep that momentum."
Boardman played a video (see below) of a cycle lane near his home, which includes a section of pavement, signs in the middle of the path and several road crossings, saying: "I think that signifies where we are at right now... it shows we haven't got a vision of where we are trying to get to."
He said people will do the easiest thing, and it needs to be easier for most people to take up cycling, adding 20 mph speed limits was a "no brainer" in making people feel safer.
Boardman was enthusiastic about the rise of sportives, which get people on their bikes from "couch to club" whether they aim to win or simply ride with their mates.
Meanwhile, health professionals agreed cycling and walking are good value solutions to the UK's health problems.
Adrian Davis is currently the UK's only transport and health professional funded by the NHS, working in Bristol City Council.
He says more councils and health authorities should work together in this way, describing co-benefits such as promoting cycling among school children, which helps kids' concentration and improves school performance.
Around cycling to school and work Mark Brown, Head of Ride2Work at Evans Cycles, said the cycle to work scheme had brought huge numbers of new cyclists to the business and that women's bikes are one of the fastest growing categories of the bike market.
He added businesses can do more, however, saying: "Secure bike parking, lockers and showers are fundamental reasons not enough people are cycling to work."
Patrick Salmon, of Mountbatten School in Hampshire, says it is vital to get children cycling in primary school as into secondary school academic commitments reduce the take-up of Bikeability training.
A short journey (opens in new tab) from British Cycling (opens in new tab) on Vimeo (opens in new tab).
Related links
Cycling experts present evidence to Parliament
What is 'Get Britain Cycling'?
Thank you for reading 10 articles this month* Join now for unlimited access
Enjoy your first month for just £1 / $1 / €1
*Read 5 free articles per month without a subscription
Join now for unlimited access
Try first month for just £1 / $1 / €1