A knee-jerk 'dangerous cycling' law isn't the solution to Britain's road problems
Comment: The government's consideration of death by dangerous or careless cycling offences won't solve the issues Britain's roads face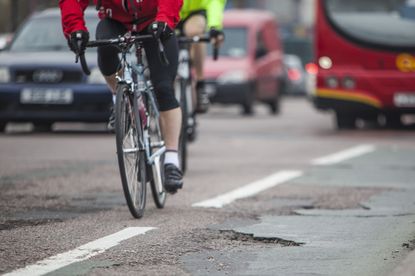 (Image credit: Chris Catchpole)
Get The Leadout Newsletter
The latest race content, interviews, features, reviews and expert buying guides, direct to your inbox!
Thank you for signing up to The Pick. You will receive a verification email shortly.
There was a problem. Please refresh the page and try again.
The tragic case of Kim Briggs was back in the headlines recently after cyclist Charlie Alliston was jailed for 18 months for causing her death. Mrs Briggs died after Allison collided with her whilst riding a fixed-wheel bike with no front brake.
>>> Need for a 'dangerous cycling' law to be reviewed by British government
Twenty-year-old Alliston was originally charged with manslaughter, but was acquitted before being convicted of wanton and furious cycling, an offence included in Offences Against The Person Act, first enacted in 1861.
While the legislation is old, the Offences Against The Person Act is used every day. As well as manslaughter, most of the regularly used assault offences are in there. However, the case has brought calls for legislative change to create offences of causing death by dangerous or careless cycling similar to those which cover drivers.
Apparently in response to the Alliston/Briggs case, the Department for Transport this week announced an "urgent review into cycle safety."
Phase one will "analyse the case for creating a new offence equivalent to causing death or serious injury by careless or dangerous driving."
While it may well be time for such offences to be created, I have two main issues with this initiative.
Firstly, if as it states, the review is to address issues of cycle safety, why not begin with making the cyclist's environment safer as opposed to addressing criminal cycling?
After all, the government press release includes the following quote.
"In 2015, two pedestrians were killed and 96 seriously injured after being hit by a bicycle. Every year more than 100 cyclists are killed and more than 3,000 seriously injured on British roads."
By the DfT's own admission the bigger problem is with cyclists being killed or seriously injured not cyclists killing and injuring pedestrians. Both are tragic, but surely the greater problem should be dealt with as the higher priority?
My second problem comes with the wording of new legislation.
Section 7 of the Road Traffic Act 1991 already provides for offences of dangerous cycling, but therein lies the problem.
The Act defines dangerous as follows:
"(a) the way he rides falls far below what would be expected of a competent and careful cyclist, and
(b) it would be obvious to a competent and careful cyclist that riding in that way would be dangerous."
Except for exchanging the word driver for cyclist, the current definition of dangerous driving is identical. But who decides what is competent or careful? In the case of a death or serious injury a jury would decide.
As even Alliston's case shows, jurors have been historically unwilling to convict drivers of manslaughter for road traffic offences. The offence carries a maximum sentence of life imprisonment and perhaps juries felt it was unfair for what was an accident. Perhaps, as most jurors are also drivers, they could see themselves making the same mistakes.
Just last week a driver was found not guilty of causing death by dangerous driving after parking on the pavement and killing a four-year-old girl near Chester. Surely driving on the pavement is dangerous? Have you ever driven onto the pavement to park? I have.
Because cyclists are a minority it is likely the actions of the errant cyclist will be judged by someone who does not regularly ride a bike. Can they judge what a careful and competent cyclist would do?
Of course, my thoughts are with Mrs Briggs's friends and family, as they are with those close to every other victim of negligent driving or cycling. Each is its own tragedy.
However, any new legislation must ensure that negligent, criminal cyclists who kill or injure are treated the same way as negligent, criminal drivers. It must be carefully thought through, however, you only need to look at the 1991 Dangerous Dogs Act to see that knee-jerk legislation fails to produce the desired justice.
Sadly I have no faith that any new cycling legislation will be any better or fairer.
Thank you for reading 20 articles this month* Join now for unlimited access
Enjoy your first month for just £1 / $1 / €1
*Read 5 free articles per month without a subscription
Join now for unlimited access
Try first month for just £1 / $1 / €1
Get The Leadout Newsletter
The latest race content, interviews, features, reviews and expert buying guides, direct to your inbox!
Owen Rogers is an experienced journalist, covering professional cycling and specialising in women's road racing. He has followed races such as the Women's Tour and Giro d'Italia Donne, live-tweeting from Women's WorldTour events as well as providing race reports, interviews, analysis and news stories. He has also worked for race teams, to provide post race reports and communications.