Fixie rider Charlie Alliston handed 18-month prison sentence over death of Kim Briggs
Alliston was handed the sentence at the Old Bailey after being found guilty of wanton and furious driving in August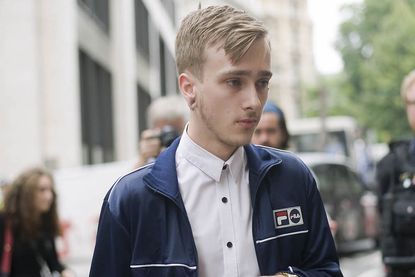 (Image credit: REX/Shutterstock)
Charlie Alliston, who caused the death of Kim Briggs after a colliding with her while riding his bike on Old Street, London, has been sentenced to prison for 18 months.
Mr Alliston, now 20, while riding an illegal fixie with no front brake, collided with Mrs Briggs as she crossed the road in east London on February 12 of last year.
>>> The media coverage of the Charlie Alliston case should be disturbing for cyclists everywhere
The 44-year-old mum of two suffered severe head injuries which she later died from in hospital.
In August, Mr Alliston was found not guilty of manslaughter but jurors at the Old Bailey found him guilty on a charge of wanton and furious driving, a lesser offence which carries a maximum sentence of two years behind bars.
He was sentenced on Monday at the same court, with Judge Wendy Joseph QC describing his riding as an 'an accident waiting to happen.'
"I am satisfied in some part it was this so-called thrill that motivated you to ride without a front brake shouting and swearing at pedestrians to get out of the way," she said.
"I've heard your evidence and I have no doubt that even now you remain obstinately sure of yourself and your own abilities.
"I have no doubt you are wrong in this. You were an accident waiting to happen.
"The victim could have been any pedestrian. It was in fact Mrs Kim Briggs.
"If you bicycle had a front wheel brake you could have stopped but on this illegal bike you could not and on your evidence, by this stage, you were not even trying to slow or stop.
"You expected her to get out of the way."
Mrs Briggs' husband Matthew thanked the judge for her comments and said that the case has 'clearly demonstrated' a gap in the law referring to incidents of dangerous cycling.
"I would like to thank the judge Wendy Joseph for her comments this morning," Mr Briggs said.
"This case has clearly demonstrated that there is a gap in the law when it comes to dealing with causing death or serious injury by dangerous cycling.
"To have to rely on either manslaughter at one end, or a Victorian law that doesn't even mention causing death at the other end tells us that there is a gap. The fact that what happened to Kim is rare is not a reason for there to be no remedy."
Thank you for reading 20 articles this month* Join now for unlimited access
Enjoy your first month for just £1 / $1 / €1
*Read 5 free articles per month without a subscription
Join now for unlimited access
Try first month for just £1 / $1 / €1