Contador denies any connection to trainer with possible links to doping scandal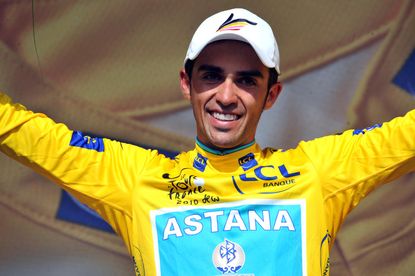 Alberto Contador has denied he has any professional connection whatsoever to the current president of the Madrid Cycling Federation (FCM), who has been reported as being implicated in a possible doping scandal.
The FCM president, Javier Fernandez Alba, is reported by Spanish magazine Interviu as being under investigation by Spain's anti-doping authorities as part of an ongoing enquiry into banned drugs in northern Spain.
According to sports daily MARCA, Fernandez Alba's involvement in the enquiry arose after World Veteran Champion Francisco José Prieto tested positive for nandrolone in a Spanish race back in 2009 and police began investigating where he had bought the banned substance, which Prieto apparently claimed was found in his organism as the result of his taking a 'multi-vitamin' pill.
Fernandez Alba currently works in a health and fitness centre in the outlying Madrid town of Majadahonda as a trainer, and in the 1990s was associated to a cycling club, the VC Portillo, which Contador joined as a junior. He is described by the magazine as Contador's manager, trainer and the man who 'discovered' Contador back in the late 90s before he turned pro.
However, Contador's press office have issued a categorical denial of the story, pointing out that when Contador joined the club, Fernandez Alba was no longer part of it, and that their only point of contact was limited to when Contador raced for Madrid's regional squad as an amateur and Fernandez Alba formed part of the Madrid Cycling Federation.
"Alberto Contador has never had Fernandez Alba as a manager and far less as a trainer, and has never attended his health and fitness centre," Contador's press release points out.
Contador's manager has been his brother Fran for the last three years. Before that, as far as Cycling Weekly can establish, he never actually had one.
"I've never had any professional relationship with Fernandez Alba and I don't even know where this [health and fitness] centre is," Contador - currently fending off allegations of doping during this summer's Tour - added.
Fernandez Alba himself denied in a statement that he is involved in any doping case whatsoever. He has also confirmed that he does not have any professional connections with Contador and has announced he will be taking legal action against Interviu for libel.
Thank you for reading 20 articles this month* Join now for unlimited access
Enjoy your first month for just £1 / $1 / €1
*Read 5 free articles per month without a subscription
Join now for unlimited access
Try first month for just £1 / $1 / €1