Contador to aim for three Grand Tours in 2011*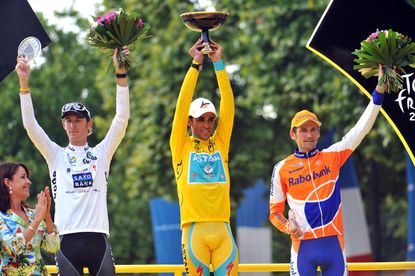 Alberto Contador explained that his Tour de France doping defence is thorough and that hopes for a quick decision. He wants to return next year to win all three Grand Tours.
"I have high hopes," Contador told France's L'Equipe newspaper. "The dossier is complete and with the commission, nothing has been left to chance and it relies heavily on scientific data."
Contador's lawyers turned in their defence to the Spanish federation disciplinary commission on Friday, November 26. He is defending himself against a positive control for Clenbuterol on July 21 at the Tour de France. If he is found guilty, he will likely lose his third Tour de France title and serve a two-year suspension.
Clenbuterol helps weight loss and breathing, and has been used by unscrupulous farmers in the past to produce lean meat from livestock. Contador claims his test was a result of eating a contaminated steak bought just over the border from France in Irún, Spain.
His lawyer said yesterday that they are using a contamination defence. However, contamination seems unlikely since the European Union prohibits farmers from using Clenbuterol. It controls farms regularly. From 2008 to 2009, it checked 83,203 animals in Europe and came up with only one positive for Clenbuterol, and it was not from Spain.
Contador has been relatively quite since he announced his test result on September 30. Last week, he attended a training camp with his new team, Saxo Bank.
"For some time I decided not to expose myself to the media because I prefer to wait until a verdict is given. It's difficult," Contador continued. "A quick decision would be ideal, even if the case is complex. I just hope it will turn in my favour."
Saxo Bank Team Manager Bjarne Riis supports Contador and welcomed him at the training camp in Fuerteventura, Spain.
"Alberto is in need of some relaxation. But his presence here is important. For me, he makes this team complete. If I didn't think in that way, my attitude would not be correct in this regard," said Riis.
"I have every reason to believe Alberto. He commands respect. Everybody knows his position and the team is united. The season will start and we must be ready, thinking that Alberto will be our leader in 2011."
Riis signed Contador for a reported €9 million over two years before he knew about the positive result. However, Contador will have to wait until January or February for a decision, and, with the possibility of appeals, he may not race until the summer.
"I do not have his fate in my hands, but I hope the decision will be fair," said Riis. "But for me, if a sanction is given, it would not mean he is guilty. It is an important distinction."
Contador confirmed to L'Equipe that he wants to race to win all three Grand Tours next year if he is free to race. No cyclist has ever won all three - Giro d'Italia, Tour de France and Vuelta a España - in one year. Contador has won the races in different years, a feat only accomplished by four other riders. Tour de France (2007, 2009, 2010), Giro d'Italia (2008), Vuelta a España (2008).
If he is found guilty, he said he might decide to retire and not return after his suspension.
"I can not guarantee that I will keep cycling in the case of a suspension."
Related links
Contador's lawyers maintain contamination cause of doping positive
WADA to appeal to CAS over contaminated meat case
Contador doping case: WADA ready to appeal, Landis critical
Contador slams Astana for lack of support during clenbuterol case
WADA dismisses Contador's clenbuterol claims
Contador welcomes disciplinary hearing into clenbuterol case
Contador strengthens defence team in clenbuterol case
What next for Contador?
Spain's sports minister urges patience in Contador case
Saxo Bank to continue team sponsorship with or without Contador
Riis has a plan B is Contador is banned
How does clenbuterol testing work
Contador considers quitting cycling due to doping scandal
Tension rises over Contador's clenbuterol case
Contador case splits experts' opinions
Alberto Contador: The clenbuterol, the beef excuse and traces of plastic
Spanish authorities investigate source of Contador's mystery meat
McQuaid quiet on Contador case but says Spain can do more
Did Contador have a transfusion during the Tour?
Contador points finger at imported meat for clenbuterol positive
Contador tests positive for clenbuterol says governing body
Subscribe to Cycling Weekly: The perfect Christmas gift>>
Thank you for reading 20 articles this month* Join now for unlimited access
Enjoy your first month for just £1 / $1 / €1
*Read 5 free articles per month without a subscription
Join now for unlimited access
Try first month for just £1 / $1 / €1