Contador welcomes disciplinary hearing into clenbuterol case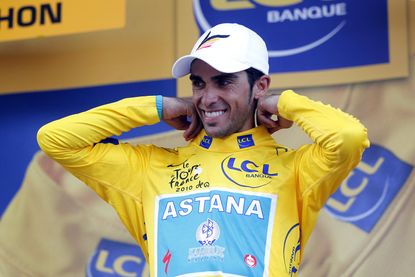 Alberto Contador has said he welcomes the news that the disciplinary hearing into his positive for clenbuterol has got underway at the Spanish Cycling Federation because it means that, however slowly, the case is no longer in legal limbo - as it has been for the last two months.
In a one-line statement that forms part of the press release, Contador said "I am happy that the case has reached the Federation because that means it is moving forward."
This is the only declaration Contador has made since the news broke on the disciplinary hearing and contradicts his press officer's earlier claims that the triple Tour winner would not be saying anything at all during the hearing.
Contador's legal team have studied the UCI report sent to the Spanish Cycling Federation (RFEC), which was produced after a six week joint collaboration with WADA and the UCI.
According to the Spaniard's press release, although it has not been confirmed by either the RFEC or by the UCI, the report apparently centres on Contador's defence that he tested positive after eating a clenbuterol-contaminated steak.
To judge from the press release.Contador has not ruled out racing next season by any means, should he be cleared. The statement says "it is to be hoped that a verdict issued as soon as possible, so that he can start the season without any kind of obstacle."
Contador is believed to be training in his home town of Pinto, around two hours a day.
Related links
Contador strengthens defence team in clenbuterol case
What next for Contador?
Spain's sports minister urges patience in Contador case
Saxo Bank to continue team sponsorship with or without Contador
Riis has a plan B is Contador is banned
How does clenbuterol testing work
Contador considers quitting cycling due to doping scandal
Tension rises over Contador's clenbuterol case
Contador case splits experts' opinions
Alberto Contador: The clenbuterol, the beef excuse and traces of plastic
Spanish authorities investigate source of Contador's mystery meat
McQuaid quiet on Contador case but says Spain can do more
Did Contador have a transfusion during the Tour?
Contador points finger at imported meat for clenbuterol positive
Contador tests positive for clenbuterol says governing body
Thank you for reading 20 articles this month* Join now for unlimited access
Enjoy your first month for just £1 / $1 / €1
*Read 5 free articles per month without a subscription
Join now for unlimited access
Try first month for just £1 / $1 / €1