Edinburgh to host Red Bull Hill Chasers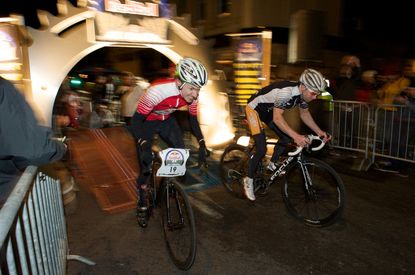 The Red Bull Hill Chasers will take place in old town Edinburgh next month, having upped sticks from Bristol.
One of Britain's most atmospheric cycling events, the innovative hill climb will take over the cobbles of the city's Grassmarket and Victoria Street on the evening of Saturday March 30th.
Amongst those signed up for the head to head elimination event are National Hill Climb Champion Jack Pullar and three time world 4X champion Michal Propak.
Cyclists from across cycling's disciplines are invited to register to take part by visiting www.redbull.co.uk/hillchasers. The fastest 30 of these in a morning time trial will then join 10 elite invitees for the main knock out rounds starting at 7pm. Typically riders compete on a variety of road machines, mountain bikes, BMXs and fixies.
The evening showdown will see riders line up in BMX style gates for an explosive head to head uphill blast over the 170m course. Narrow pinch points along the way add some tactical intrigue and the field will gradually be reduced to just two finalists. Charge bikes will be providing the prizes.
Held on Bristol's Park Street for the last two years, the event has been a spectator friendly hit from the outset.
Wiggle's Ben Simmons won last year's event after preceding though the public qualifier, while Chris Metcalfe took the honours in 2011 in an event that included trials legend Danny MacAskill.
The closing date for entries is midnight on Friday 22 March.
Related links
Ben Simmons wins Red Bull Hill Chasers
Red Bull Hill Chasers 2012 photo gallery by Jim Davies
Bristol Hill Climb hits the spot
Red Bull Hill Chasers 2011 photo gallery by Jim Davies
Red Bull charges into Bristol
Thank you for reading 20 articles this month* Join now for unlimited access
Enjoy your first month for just £1 / $1 / €1
*Read 5 free articles per month without a subscription
Join now for unlimited access
Try first month for just £1 / $1 / €1