Endura's perfect night cuts Rapha's Tour Series lead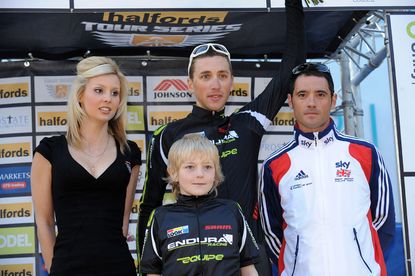 Tour Series 2011 round six, Oldham, photo gallery by Andy Jones>>
Endura Racing took the fight to Rapha-Condor-Sharp in round six of the Tour Series in Oldham last night, winning both the individual and team round to close the gap at the top of the standings to just seven points.
Rob Partridge narrowly beat Motorpoint's Marcin Bialoblocki in the closest finish of the event so far; Bialoblocki raised his hands as he crossed he line but a photo finish proved he crossed the line first.
After the judges had finalised the individual result, Endura's first, seventh and ninth placed-finishes not only beat Motorpoint into second, but ended Rapha's run of five consecutive team victories in the series.
Taking the fight to the line
While not as fast as Tuesday's round in Stoke-on-Trent, the racing was still frantic from the outset.
A group of 12 containing three riders a piece from Endura, Rapha and Motorpoint broke clear early on and, when that split into a five-man break, only Dean Downing was upfront to represent the series leaders.
Motorpoint were represented by Bialoblocki and Ian Bibby, with Liam Holohan (Team Raleigh) completing the line-up.
The move gave Rapha a tactical head-ache as, despite only having one rider upfront, they lacked a numerical advantage in the now chasing group of seven.
They opted not to chase, although Ed Clancy took a flier in the closing stages to solo into a sixth-placed finish.
Rob Partridge in the thick of the action
Endura's comeback begins
Ahead, Partridge timed his sprint to perfection, leaving it late on the uphill run-in to the line and took a fine individual win.
Holohan finished third, as he edged out Bibby; Downing was a bystander in fifth.
Team-mate Ian Wilkinson finished seventh and with Jack Bauer in ninth, meaning that Julian Winn's squad had ended Rapha's dominance in the Tour Series thus far.
Just two rounds now remain; Woking on Tuesday, with the finale in London's Canary Wharf next Thursday.
Tour Series: How it works
The Tour Series is a team competition, rather than for individual riders - so although one rider 'wins' each round it is actually the top three riders in each team that give the team their points for the round.
The team that has accrued the most points at the end of the eight-round series wins the series overall.
Results

Tour Series 2011, round six: Oldham

1. Endura Racing
2. Motorpoint Pro Cycling
3. Rapha-Condor-Sharp
4. Team Raleigh
5. Sigma Sport-Specialized
6. Team UK Youth
7. CyclePremier.com-Metaltek
8. Pendragon-Le Col-Colnago
9. Twenty3c-Orbea
10. Wilier-GoSelfDrive.com
Individual result

1. Rob Partridge (Endura Racing)
2. Marcin Bialoblocki (Motorpoint Pro Cycling)
3. Liam Holohan (Team Raleigh)
4. Ian Bibby (Motorpoint Pro Cycling)
5. Dean Downing (Rapha-Condor-Sharp)
6. Ed Clancy (Rapha-Condor-Sharp)
7. Ian Wilkinson (Endura Racing)
8. Jeroen Janssen (Team Raleigh)
9. Jack Bauer (Endura Racing)
10. Dean Windsor (Rapha-Condor-Sharp)
Overall series standings after round six

1. Rapha-Condor-Sharp 58pts
2. Endura Racing 51pts
3. Motorpoint Pro Cycling 38pts
4. Sigma Sport-Specialized 35pts
5. Team Raleigh 32pts
6. Team UK Youth 31pts
7. Pendragon-Le Col-Colnago 26pts
8. CyclePremier.com-Metaltek 26pts
9. Twenty3c-Orbea 25pts
10. Wilier-GoSelfDrive.com 8pts
Boardman Bikes Sprints standings after round six

1. Kristian House (Rapha-Condor-Sharp) 27pts
Annie Simpson wins Johnson Health Tech Women's Grand Prix Series round three
Marcin Biablocki thinks he's won, but it was actually Rob Partridge (far left) who got the victory
Related links
Tour Series 2011 round six, Oldham, photo gallery by Andy Jones
Tour Series 2011: Cycling Weekly's coverage index
Herety: All to play for in Tour Series
Thank you for reading 20 articles this month* Join now for unlimited access
Enjoy your first month for just £1 / $1 / €1
*Read 5 free articles per month without a subscription
Join now for unlimited access
Try first month for just £1 / $1 / €1