European trip suggests Armstrong doping probe is moving ahead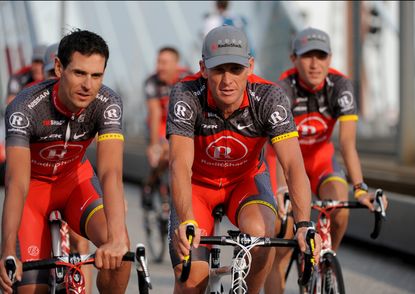 US investigators are making headway into the Lance Armstrong doping investigation, according to participants of meetings this week in Lyon, France.
"This is no joke," one official told the Associated Press. "This is serious, this is hard-nose. It was not a sightseeing trip."
The Associated Press spoke with some of the officials who attended or who were briefed on the meeting with US investigators on Tuesday and Wednesday. The officials talked on condition of anonymity because the US investigators asked that the meeting not be discussed publicly.
The meeting took place at the international police headquarters, Interpol in Lyon. It attended by representatives from France, Spain and Italy, countries where Armstrong lived or trained. Food and Drug Administration (FDA) criminal investigator Jeff Novitzky led the US delegation. He travelled with US Anti-Doping Agency CEO Travis Tygart, Assistant US attorney Doug Miller, his co-counsel Mark Williams and FBI special agent Olivier Faraole.
Novitzky's investigation intensified in April when Armstrong's former team-mate, Floyd Landis alleged widespread doping use in Armstrong's former US Postal team. In the US, some of Armstrong's former team-mates have testified in front of a grand jury. Armstrong's long-time sponsors, Nike, Oakley and Trek, have also supplied information.
Novitzky's focus turned international in July when, according to Italian prosecutor Benedetto Roberti, there was a similar meeting in Europe.
"This is a very complex procedure," said one European official from this week's meeting, "and it can only work within a judicial frame."
Novitzky subpoenaed Armstrong's team-mate, Ukrainian Yaroslav Popovych on October 22. Popovych rode on team Discovery Channel and helped Armstrong win his seventh consecutive Tour de France in July 2005. Popovych raced with Armstrong again at team Astana last year and at team RadioShack this year.
He lives in Italy, but was subpoenaed when he was in Austin, Texas, for Armstrong's Livestrong Challenge ride. He stayed in the US and testified on November 3.
Roberti said that he ordered a raid of Popovych's home in Italy one week ago on November 11 to help with the Armstrong investigation. Policed seized mobile telephones and a computer, evidence they handed over to Novitzky in Lyon.
"He's going through all of Europe's trash cans. And sometimes you find things in a trash can," said another participant, a police officer, of Novitzky.
"They need supplemental proof to back up everything they have gathered," he said. "As we say in our jargon, they have some marbles to play with."
Armstrong spokesperson Mark Fabiani, however, said European trip was a waste of time and money.
"American taxpayer money is being squandered on a European trip for FDA investigators to dredge up old allegations that have already been thoroughly examined and completely discredited," said Fabiani. "All of Lance's samples were clean when they were first provided and tested, and no amount of tax-money-wasting European meetings can change that fundamental fact."
Armstrong, 39, denies Landis' allegations and that he used performance-enhancing drugs during his career.
He initially retired after he won the Tour de France for the seventh time in 2005, but he returned to cycling last year. He finished third at the Tour de France and raced it again this year, finishing 23rd.
He announced last month that his last race outside of the US will be at the Tour Down Under in Adelaide, Australia, in January 2011.
Thank you for reading 20 articles this month* Join now for unlimited access
Enjoy your first month for just £1 / $1 / €1
*Read 5 free articles per month without a subscription
Join now for unlimited access
Try first month for just £1 / $1 / €1