Friends' tributes to Junior Heffernan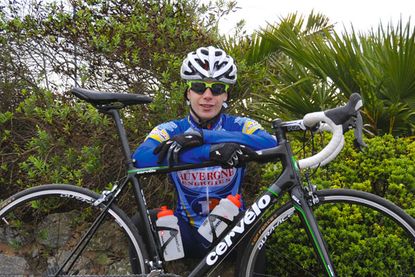 News of Junior Heffernan's untimely death during Sunday's Severn Bridge Road Race sent shockwaves throughout the cycling community.
Cycling Weekly invited those who knew and rode with Junior to pay their tributes to him. Below, his long-time friend and training partner, his coach and his mentor tell CW what they will remember about him.
Steve Ferguson - friend and training partner
"I've known him for eight years or so - I think he was 15 when we first me. He was ambitious even back then, and wanted to make it to the top.
"His parents Bernard and Denise were so supportive of what he wanted to achieve. He started off as a triathlete, and they built a two-lane, Olympic length swimming in their garden to help him. It was always cold, so it meant you had to train hard to stay warm. Junior never complained about that.
"He also went to live in Ethiopia to train for a few months because he knew his running wasn't as good as it could be. He was training 100 miles each week, and the accommodation wasn't exactly luxury, which again proves how determined he was.
"It wasn't long after he came back that he switched to cycling. He knew that's where he was strongest. He was such a natural athlete, and I always feared going out training with him because I knew I would be in for a tough day. I always used to ensure I got the carbs in the night before because Junior's way was to attack the hills in Dartmoor whenever we'd go out.
"Off the bike he was a clever lad - certainly smarter than me. He got a lot of top grades at school. He rarely drank, rarely swore and I can't recall him ever getting stressed out."
"He was really happy about his new team [for 2013, Herbalife-LeisureLakesBikes]. He was really focused and excited about the year ahead. Junior was such a good rider, and hopefully he will be remember for the good he did."
Fiona Telfer Brunton - One and All Cycling Academy head coach
"Junior rode for One and All Cycling / Bike Chain Ricci last season after returning from a spell racing in France last year. Slightly disillusioned with his French experience, he initially re-established his contact with Richard Pascoe MD at Bike Chain Ricci and founder of One and All.
"Ricci helped Junior to get his riding and racing back on track and encouraged him to get involved with our Youth Academy. As head coach of the Academy I had the pleasure of chatting and working with Junior putting him through his paces on the Wattbike and helping him to plan his goals for the season as well as listen to his aspirations for the future.
"Junior came down and rode as often as he could with our academy easily fitting into the fold and passing on his tips and experience to our youth and junior riders. He always had a kind, polite word to share with everyone and a smile on his face and was a pleasure to have around.
"What sticks with me about Junior was his overwhelming desire to reach the top he was hugely driven and determined as well as massively dedicated to his training and racing. He was the kind of rider who would leave no stone unturned, who loved his bike and who was desperate to prove to the world just how good he could be."
Steve Lampier - mentor and Node4-Giordana rider
"I missed a lot of races last season through illness, and in my quest to recover I spent a lot of time in Cornwall. It was there that I started advising riders at the One and All Cycling Academy - through this I met Junior.
"He was a talented climber - I think he must have weighed around the 62-kilo mark - and I found him some local races to compete in. He did really well in them, and we both knew he could go onto bigger and better things.
"He was always good at listening to advice. He took things onboard and was so driven in what he wanted to do."
Related links
Support grows for NEG petition
Junior Heffernan dies after collision during Severn Bridge road race
Jonny Clay confident for future of road racing after appointment of National Liaison Officer
Thank you for reading 10 articles this month* Join now for unlimited access
Enjoy your first month for just £1 / $1 / €1
*Read 5 free articles per month without a subscription
Join now for unlimited access
Try first month for just £1 / $1 / €1
Nick Bull is an NCTJ qualified journalist who has written for a range of titles, as well as being a freelance writer at Beat Media Group, which provides reports for the PA Media wire which is circulated to the likes of the BBC and Eurosport. His work at Cycling Weekly predominantly dealt with professional cycling, and he now holds a role as PR & Digital Manager at SweetSpot Group, which organises the Tour of Britain.