Geraint Thomas goes from the floor to fourth at Het Nieuwsblad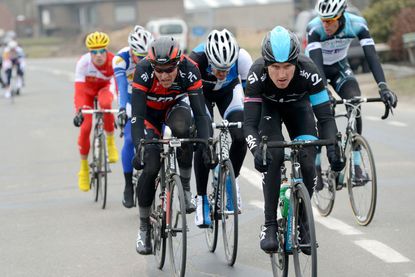 Breathing heavily in the Belgian cold after the finish and with the back of his jersey torn, Geraint Thomas got off his bike and spat out one word to Sky race coach Rod Ellingworth before getting on the Team Sky bus: "Bastards!"
Though frustrated that Luca Paolini and Stijn Vandenbergh had flown the coop to contest Het Nieuwsblad victory, Thomas's fourth place finish in the group behind is the best Classics result of his career.
It is even more impressive in light of a heavy crash seventy kilometres into the race that had Team Sky staff worried about his continuation.
"He was dizzy for a moment. It didn't look good, we thought the race was over. Then he came back and next thing we know, he was attacking off the front," directeur sportif Servais Knaven said.
"I was just following Bernie [Eisel], this guy tried to take me off his wheel," Thomas told CW after the finish. "I bounched off him, hit somebody else and something got caught on this other's guy's bike. All of a sudden, my bike sort of stopped and I was gone."
"I landed right on my back and burst all my gels - another reason I was a bit empty at the end, I didn't have much food left. But I'm okay: obviously banged up, but I've had worse."
Misjudging the sprint for third
Thomas had expected Vandenbergh and Paolini to return to the ten-strong chase group which formed after the Eikenberg and give him a chance to fight for the win.
In the end, he was left a little more disappointed at failing to catch Sven Vandousselaere (Topsport Vlaanderen) and finish on the podium.
"The Topsport guy went quite early, I stopped for a rev to give him a bit of a gap, to run at him, I should have kept going. I gave him too much space... I felt good in the sprint, but I don't really sprint for myself very often these days so it's good to keep doing it and learning about it all the time. It just would have been nice to be on that podium," he says.
Was it the coldest race of his career? "For sure... but we wrapped up well and once you're racing, you've got the adrenaline and don't really feel it as much," he said.
Thomas's lively performance in Het Nieuwsblad, part of a flying early season that includes a stage win and third overall in the Tour Down Under, begged the question: can he win the Tour of Flanders?
"The thing with Flanders and these sort of races is you can have one leader but at the end of a day, a lot can happen and having a strong team works in everyone's favour," Thomas said. "I think we're in a good position to try and get on that podium."
Knaven: Geraint can win Flanders
Team Sky directeur sportif Servais Knaven was more candid. "I think he can win... I saw him just now in the bus and he's not totally empty, you could see in the finale he was still fresh. He could ride another hour probably, and Flanders is another hour more. I think we [Team Sky] can look back on a good race today."
"We had the right guy in front," he continued. "Our leader for the day was in the breakaway, other teams didn't have their one up there. Look at Blanco [for example]: they did a really good race, but they didn't have Lars Boom or Vanmarcke there."
Tomorrow is the other half of the Classics opening weekend: Kuurne-Brussels-Kuurne. Expected to be a showdown between Mark Cavendish and Andre Greipel, there is a possibility that overnight snowfall could see the significant climbs cropped from the route, with main roads used on a truncated route.
"You never know in Belgium. Maybe it's 20 degrees tomorrow!" Knaven said.
Related links
Luca Paolini wins 2013 Omloop Het Nieuwsblad
Omloop Het Nieuwsblad photo gallery
Cycle Sport: Het Nieuwsblad analysis - Two against eight, how Omega Pharma won, then lost the race
Thank you for reading 20 articles this month* Join now for unlimited access
Enjoy your first month for just £1 / $1 / €1
*Read 5 free articles per month without a subscription
Join now for unlimited access
Try first month for just £1 / $1 / €1