Get to know the Eskute Wayfarer and Voyager e-bike models
Cycling Weekly readers can get £50 off these great value machines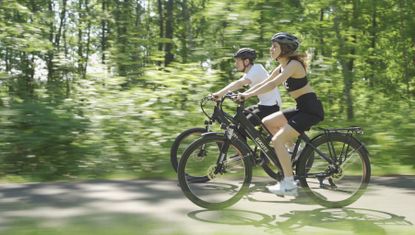 (Image credit: Eskute)
Promotional feature with Eskute
The global e-bike revolution continues to gather pace, with more people than ever before reaping the benefits of electric-assisted cycling.
While e-bikes have the potential to improve your commute, get you to the top of the mountain, or even help you keep up on a club ride, the cost of motorised bikes can be prohibitive for some riders.
But as the technology improves, e-bike builders like Eskute are helping to make the machines more affordable, bringing them to a wider audience.
Eskute's message to cyclists is "the freedom to explore anywhere," letting you travel far and wide with manoeuvrability , style, and comfort, but without the same effort of a purely pedal-powered bike.
The company is also driving down the cost of e-bikes, with both its e-bikes models coming in well under £1,000.
Here is everything you need to know about the flagship Eskute e-bikes, the Wayfarer, and the voyager, and how you can get a further £50 off these boundary-pushing electric machines.
The Eskute Wayfarer Electric bike
The Eskute Wayfarer is the perfect machine for city riding and trekking.
With a 250 watt brushless gear hub motor, the Wayfarer is a hardtail bike (front suspension only) that can offer 80km+ of riding with each charge.
The Wayfarer also has a restricted speed of 25km/h, while its 36v 10AH lithium-ion modern design in-line battery is also removable, if you need to save some weight or just want to pedal under your own power.
With its LDC digital display panel, you can keep an eye on your battery levels, your speed, and adjust exactly how much electric assistance you're getting as you pedal.
The Shimano seven-speed gearing completes this ultra-practical machine for outstanding value at £899.
The Eskute Voyager Mountain Electric Bike
For the more intrepid e-biker, Eskute offers the Voyager Mountain electric bike - a hardtail off-road bike that can take on the toughest conditions.
The Voyager comes with a 48v 10AH, 480 watt Lithum-ion battery with a range of 100km+ from a full charge, and once again the battery is detachable for convenience, powering a 250w brushless gear hub motor, restricted to 25km/h.
Along with the LCD display and Shimano seven-speed gearing, the Voyager also comes with anti-puncture 27.5 inch tyres and lockable front suspension, giving you off-road versatility and reliability.
This complete Voyager package comes in at £899.
How Cycling Weekly readers can get £50 off their chosen Eskute e-bike
Step 1: Choose your e-bikes from Eskute.co.uk
Step 2. Use code "cyclingweekly50" at the checkout
Step 3: Save £50 on your Eskute e-bike order
Is an Eskute e-bike worth it?
It's no secret that e-bikes can set you back thousands of pounds, with most options costing somewhere from £1,500 to almost £6,000.
But Eskute is breaking the trend when it comes to cost, offering versatile e-bikes with great specifications and fantastic battery life for under £1,000, not forgetting the £50 discount for Cycling Weekly readers.
So if you're looking for a great value, reliable e-bike, either for commuting and trekking, or even off-road adventures, look no further than Eskute.
Thank you for reading 20 articles this month* Join now for unlimited access
Enjoy your first month for just £1 / $1 / €1
*Read 5 free articles per month without a subscription
Join now for unlimited access
Try first month for just £1 / $1 / €1