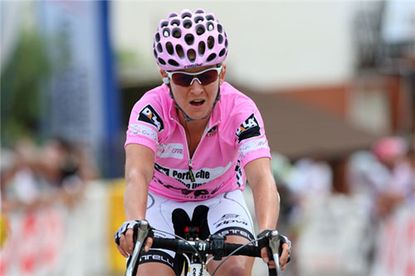 The women's Giro d'Italia - the Giro Donne - appears to be saved. The Italian Federation is working with a new organiser so the stage race can continue as programmed, from June 28 to July 7.
After his re-election, Federation President Renato Di Rocco asked Giuseppe Rivolta to organise the race. He already stepped in twice, running it from 2002 to 2005 and from 2007 to 2009. He also directed the race under Sara Brambilla for the last three years.
"I've done it before," Rivolta told Cycling Weekly in December, "and I can try to do it again."
The race is too vital to women's cycling to disappear. Last year it celebrated its 23rd edition. Emma Pooley (AA Drink) finished behind winner Marianne Vos (Rabobank).
"It would be terrible for women's cycling if our Giro stopped, it's the toughest and most glorious stage race we have," Pooley said.
"I know the organiser Sara Brambilla has done a fantastic job over the last few years to get the race together in tough times, but I don't think it's been easy for her. I'm afraid the job of women's race organisers is made more difficult because the relative lack of media coverage means that it's very difficult to get sponsors involved."
The Italian federation owns the race and out-sources it to organisers, with Brambilla running it for the last three years. It is the closest event women have to a Grand Tour, even the UCI gave it a 2.1 ranking instead of a 2.HC for 2013.
"Right now, it's the longest, most prestigious stage race out there - the women's Tour de France," said Evelyn Stevens (Specialized-Lululemon), third overall last year.
"The Tour de l'Aude was up there but now that's gone, the Giro, that's the race... You hope that maybe it will be saved because it's such a beautiful bike race. I love it. The food's always good, the fans are amazing, they actually put coverage on television. ... I won a fair number of stages races last year, but I didn't win the Giro. [It's] the hardest one to win."
Di Rocco told Cycling Weekly that if he was re-elected it would just be a matter of finding a new organiser to make the race happen. He won the re-election on January 12. The women's Giro now sits high on his list.
Rivolta appears to be Di Rocco's choice. Mario Minervino, who organises the successful Trofeo Binda World Cup, explained that his hands are too full to take on the Giro. He added that the federation will see that the race continues.
"I'm convinced the federation wants the race," Mario Minervino said. "It's a legacy of Italian cycling. It has to go forward."
Related links
Giro Donne 2013 will go ahead, says Italian Cycling Federation
Thank you for reading 20 articles this month* Join now for unlimited access
Enjoy your first month for just £1 / $1 / €1
*Read 5 free articles per month without a subscription
Join now for unlimited access
Try first month for just £1 / $1 / €1