Hepworth wins 2012 Clayton Velo Classic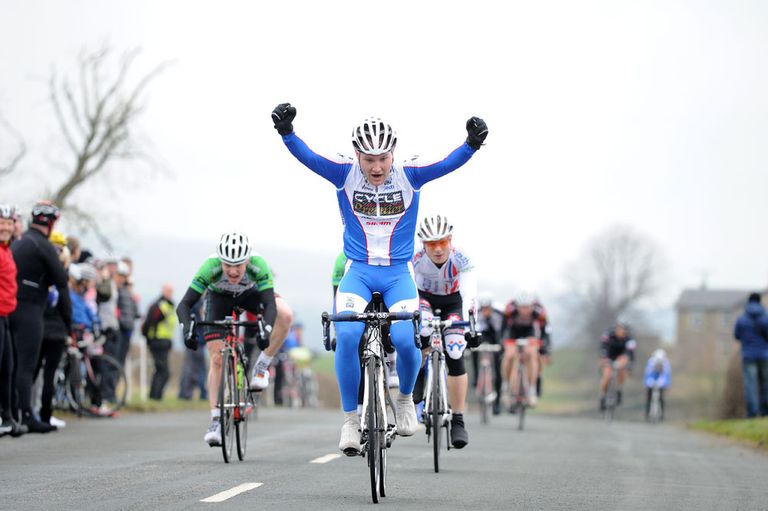 Clayton Velo Spring Classic 2012 full photo gallery by Andy Jones>>
Richard Hepworth secured the first big win of the season for the Cycle Premier team when he took victory in the Clayton Velo Spring Classic handicap in Lancashire on Sunday.
But the 25-year-old Yorkshireman's successful foray over the border to the Bashall Eaves circuit was not the only win of the day for Cycle Premier, with Jake Martin winning the final round of the South East Winter Series in Kent.
With nine riders lining up for the race many thought that Rahpa Condor Sharp would dominate, and although they bossed the early chase and got two men in the decisive break, they missed out on a podium spot, with strong sprinters holding them off in the chase for the line.
The race came together with 16 miles remaining, and shortly after the strong men made their bid for freedom. Eight initially got clear, while Hepworth was the last man to bridge the gap.
The nine-strong group began to pull away quickly with Richard Handley and Mike Cuming (both Rapha Condor-Sharp), Simon Wilson (Metaltek), Dave McGowan (UK Youth), Rob Smail (Team Wallis), Sam Jackson (Vanilla Bikes) and Herbalife's Robbie Hassan and Andy Hawdon as well as Hepworth.
The remaining 13 Rapha riders let the break go, but their men didn't feature heavily in the chase.
Sam Jackson led out the sprint, but Hepworth was quickly onto his wheel and held out well to the line.
"It's a big win for both me and the team," said Hepworth. "I felt really good all day, and was getting across the groups with ease, although obviously Rapha Condor-Sharp were governing things with 15 riders in the race.
"When I hit the front in the sprint I just went for it. It was a long way out because it's a slightly draggy finish and I expected someone to come round me, but nobody did."
Further south, Hepworth's team-mate Jake Martin soloed to victory in round eight of the SERRL Winter Series, holding off PM Racing's Billy-Joe Whenman and David Seager.
Results

Clayton Velo Spring Classic 2012

1. Richard Hepworth (Cycle Premier) 1-55-30
2. David McGowan (Team UK Youth)
3. Robbie Hassan (Herbalife)
4. Andrew Hawdon (Herbalife)
5. Simon Wilson (Metaltek Scott)
6. Robert Smail (Team Wallis)
7. Mike Cuming (Rapha Condor Sharp)
8. Sam Jackson (Vanillabikes.com)
9. Richard Handley (Rapha Condor Sharp)
10. Declan Byrne (Cycle Premier RT)
Like Cycling Weekly on Facebook
Kristian House and Declan Byrne
Clayton Velo Spring Classic 2012
Richard Hepworth celebrates the win
Related links
Clayton Velo Spring Classic 2012 full photo gallery by Andy Jones