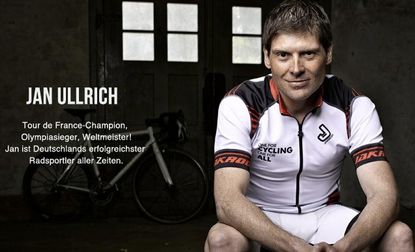 German 1997 Tour de France winner and 2000 Olympic road race champion Jan Ullrich has made a return to cycling - as a cyclo-sportive rider.
Ullrich withdrew from the world of professional cycling after being implicated in the Operacion Puerto organised doping ring in Madrid, Spain. He was barred from taking part in the 2006 Tour de France, and subsequently retired from cycling - and largely from public life - in 2007.
Now Ullrich has re-emerged in the cycling world, taking part in the Gran Fondo Colnago in Miami, USA, at the weekend and has recently re-launched his website and Facebook page. Ullrich is pictured on the site wearing a white Jakroo cycling jersey bearing the logo "One for cycling, one for all".
Ullrich appeared at the Miami Gran Fondo is his capacity as ambassador to event organiser Star Events. He is scheduled to ride at two further US Gran Fondos in 2012: San Diego in April and Los Angeles in June.
Ullrich is currently awaiting a decision from the Court of Arbitration for Sport (CAS) after cycle sport's governing body, the Union Cycliste Internationale (UCI) filed for a suspension. The hearing was originally scheduled to take place before the end of November, but is not listed as a forthcoming hearing by CAS on its website. Ullrich served a six-month suspension after testing positive for amphetamines in 2002, which he took recreationally.
In 2008, it was reported that Ullrich had paid his way out of a fraud investigation undertaken by German prosecutors.
The German enjoyed a successful cycling career, including wins in the Tour de France, Olympic road race, Vuelta a Espana, Tour de Suisse and World time trial title.
Ullrich has always maintained that he did not take performance-enhancing substances.
Ullrich, who turns 38 on December 2, is married to Sara. He has three children: Sarah Maria (8), Max (4) and Benno (10 months).
Related links
April 2008: Ullrich buys his way out of trouble
April 2007: DNA tests confirm Ullrich link to Operaction Puerto
July 2006: T-Mobile sack Ullrich and Sevilla
Thank you for reading 20 articles this month* Join now for unlimited access
Enjoy your first month for just £1 / $1 / €1
*Read 5 free articles per month without a subscription
Join now for unlimited access
Try first month for just £1 / $1 / €1