Labour party pledges commitment to Get Britain Cycling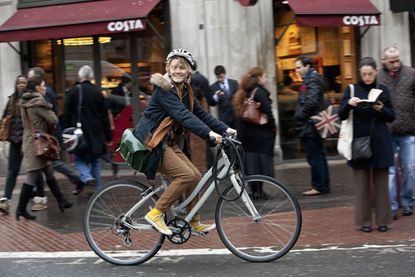 Labour pledged its commitment to Get Britain Cycling at the party's conference in Brighton today, bringing cycling one step closer to a cross-party consensus.
In her speech Maria Eagle, Labour's Secretary of State for Transport, focussed on reducing transport poverty by encouraging walking, cycling and cheaper public transport.
Among the proposals she made for cycling were default 20mph zones in residential areas, a review of sentencing guidelines and reintroducing road death reduction targets, with tough new HGV rules and long-term cycle training investment.
Maria Eagle said: "When nearly a quarter of all journeys are less than a mile, Let's Get Britain Cycling. On this issue [coalition Cycling Minister] Norman Baker and I agree."
Eagle also committed to specific infrastructure measures for cycling, including separated cycle routes, redesigned junctions and phased traffic lights as well as space on trains for bikes and secure facilities at stations as part of rail contracts.
Eagle was critical of the government's axing of Cycling England and contrasted the £38 million per year cycling funding with the £28 billion pledged for roads.
In response to today's speech Sustrans' Policy Director, Jason Torrance, said: "It's fantastic to see Labour make a clear and firm commitment to cycling and to introducing a default 20mph speed limit in residential areas, putting an end to the postcode lottery that leaves some communities in more danger than others.
"Access to healthy and affordable transport is essential - if we are to tackle the UK's physical inactivity crisis and prevent the economy from faltering any further walking, cycling and public transport must sit at the heart of these plans."
He added consistent, year-on-year targets were essential to allow local authorities to plan for the future, however.
Although lacking the specific targets like £10 per head spending and 10% of journeys by bike by 2025, as adopted in last week's Lib Dem conference, Labour's commitment to Get Britain Cycling leaves the Conservatives the last major party to sign up to cycling in this way.
Related links
Lib Dems adopt Get Britain Cycling recommendations
Thank you for reading 20 articles this month* Join now for unlimited access
Enjoy your first month for just £1 / $1 / €1
*Read 5 free articles per month without a subscription
Join now for unlimited access
Try first month for just £1 / $1 / €1