Lance Armstrong interview with Oprah Winfrey raises doubts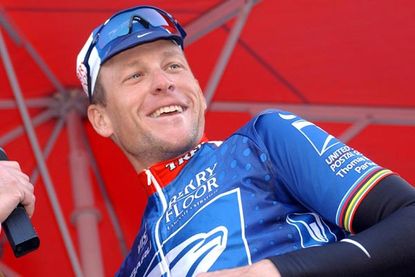 Lance Armstrong's forthcoming television interview with Oprah Winfrey - his first since being found guilty of doping - has raised eyebrows as well as doubts. The January 17 interview may lack legitimacy and open the floodgates for lawsuits.
"Only Lance would get to have his moment of truth, if that's what it will be, in front of Oprah Winfrey. It is not sitting in front of a judge or a disciplinary hearing being properly questioned about the things he has done wrong," cyclist David Millar told the Telegraph.
"I doubt very much it will be a proper interrogation. My biggest concern is that it will be completely stage-managed, that he will just be 'given the ball', and that it will all be about his emotions rather that concentrating on exactly what he did wrong."
David Walsh released a new book, Seven Deadly Sins, about his 12-year search to uncover Armstrong's drug use. He believes a possible confession in the Winfrey interview will help Armstrong out of his purgatory, but allow for future lawsuits.
"I feel he has to do that to kind of rebuild his life, because he's in a really bad place now, but the kind of practical difficulty he's got is that once he admits that he did dope, people are going after him to get money back that they paid to him," Walsh told Global Cycling Network.
"If he admits he doped, those cases are all immediately lost - he then has no defence - so I believe his lawyers are telling him now, 'Sit tight Lance, you cannot do that tell-all interview'. But his life remains in a kind of a purgatory. Telling all might be hell for a certain amount of time, but it gives him a chance to start climbing upwards out of there."
Related link
Lance Armstrong to talk to Oprah Winfrey about doping
USADA reveals Armstrong attempted to donate $250,000
US Anti-Doping Agency CEO Travis Tygart revealed yesterday that Lance Armstrong tried to donate $250,000 [£155,000] in 2004.
"It was a significant financial donation," he said in a 60 Minutes TV interview. "One of his representatives made an offer to us. It was well in excess of $150,000."
The interviewer asked if it was around "a quarter of a million dollars" and Tygart said confirmed it.
"I was stunned," Tygart added. "It was clear conflict of interest for USADA. We had no hesitation in rejecting that offer."
Armstrong donated $125,000 to the UCI, cycling's governing body in 2002. Last summer, the USADA found Armstrong guilty of doping throughout his career, handed him a life ban and stripped him of his results.
Katusha awaiting hearing, applies for second division
Katusha, according to La Gazzetta dello Sport, applied for a second division licence to race the Tour de San Luis, January 21. The Russian team is currently without a licence after the UCI rejected is renewal application for the first division.
The team debuted in 2009 and raced in the first division for four years. The UCI's licence reportedly overlooked Katusha due to doping and other ethical issues.
The team vowed to fight the case and appealed it to the Court of Arbitration for Sport (CAS). The high court yesterday rejected a provisional first division licence request and said it would hear the team's appeal soon. A statement read, "A hearing will be scheduled shortly in order for a final decision to be issued as quickly as possible."
Africa debuts with MTN-Qhubeka in Tirreno and San Remo
Africa will see its top team, MTN-Qhubeka, race in the Tirreno-Adriatico and Milan-San Remo for the first time. On Tuesday, organiser RCS Sport signed off on the South African application.
Team principal Douglas Ryder said in a press release, "It was a major goal for us this year to get into those two races as they are two of the most prestigious ones on the calendar."
The 21-man team is mostly African, with nine from South African and six from other African countries.
Ryder told Cycling Weekly earlier that the goal is to participate in a Grand Tour. A ride in 2014 appears possible, but it may come as soon as the Vuelta a España in August.
Related link
Russell Downing and NetApp look ahead to season without Giro invite
Ballan returns home with broken leg
Alessandro Ballan returned home, to a hospital near his home in Castelfranco Veneto, Italy, after a training crash in Spain.
At a team BMC Racing training camp on December 20, he broke his left femur and a rib in a crash. He passed the Christmas and New Year's holidays in Spanish hospital, where doctors had to remove his spleen.
He will miss his favourite races, the Tour of Flanders and Paris-Roubaix, and will likely not see action until the end of the season.
Thank you for reading 20 articles this month* Join now for unlimited access
Enjoy your first month for just £1 / $1 / €1
*Read 5 free articles per month without a subscription
Join now for unlimited access
Try first month for just £1 / $1 / €1