2008 PROTOUR DATES UNVEILED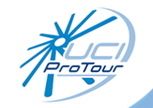 Union Cycliste Internationale president Pat McQuaid unveiled the organisation's 2008 ProTour calendar at a press conference during the World Championships in Stuttgart.
McQuaid and the UCI have created a new ProTour calendar for 2008 that begins with the Tour Down Under on January 22 and ends with a one-day final race on October 5. An organiser for this race has still to be found.
According to the 2008 ProTour calendar (see below), there will be a total of 70 days of racing. The dates avoid most clashes between ProTour races and historic races organised by the 'big three' - the organisers of the Tour de France (ASO), Giro d'Italia (RCS) and Vuelta a Espana (Unipublic). The only clash comes in September when the Vuelta (Aug 30-Sept 21) coincides with the Tour of Germany (Aug 29-Sept 6) and the Hamburg Vattenfall Cyclassics (Sept 7).
The three major stage races and the historic Classics such as Paris-Nice, Milan-San Remo, Paris-Roubaix, Fleche-Wallonne, Liege-Bastogne-Liege, Paris-Tours and the Tour of Lombardy will be part of the separate Europe Tour calendar and held on their traditional dates.
The dates seem to satisfy both the UCI and the major race organisers except for one point: The UCI are insisting that the Tour de France automatically give places to the 18 ProTour teams. The Tour de France has already said this will not happen and will invite the teams based on ethical and sporting standards.
?I have letter dated September 5 that states clearly that all three major organisers don?t want to be part of the ProTour in 2008 or ever. It?s time we accept that and find an arrangement for them, so we develop a different ProTour with a different concept,? McQuaid said.
?There?s huge potential to develop cycling. We?re in contact with the Chinese government to create a legacy event for the Olympic Games and they?re really interested in a Tour of China and are ready put big money and big sponsors behind it. It?s the same in Russia. Vladimir Putin himself is the one who?s instigated for a ProTour team and event in Russia. We should respond to that and work with people who want to work with us.?
?The Giro and Vuelta wanted free selection of the teams for their races and so let them do it. There?s no desire to make problems for anybody. We would hope they?ll accommodate us and we?ll accommodate them. There?s no conflict or desire to damage races. Our interest is to create calendar for cycling. The ProTour teams have their choice. They ride the ProTour races they are committed to and then they ride other events they want to ride. There are overlaps there always are but there won?t be purposely built overlaps with strategic events to try and bury the other events. We consider we?re being pragmatic.?
2008 PROTOUR CALENDAR
Tour Down UnderAUS22-01-2008 -27-01-2008
Ronde van Vlaanderen BEL6-04-2008
Vuelta Ciclista al Pais VascoESP7-04-200812-04-2008
Gent-WevelgemBEL9-04-2008
Amstel Gold RaceNED20-04-2008
Tour de RomandieSUI29-04-20084-05-2008
Volta a CatalunyaESP19-05-200825-05-2008
Critérium du Dauphiné LibéréFRA8-06-200815-06-2008
Tour de SuisseSUI14-06-200822-06-2008
Team time trialNED22-06-2008
Clasica Ciclista San Sebastian ESP2-08-2008
Eneco Tour-20-08-200827-08-2008
GP Ouest France - PlouayFRA25-08-2008
Deutschland TourGER29-08-20086-09-2008
Vattenfall CyclassicsGER7-09-2008
Tour de PolognePOL15-09-200821-09-2008
Finale / finaltbc5-10-2008
World Championships and Olympic Games
Olympic Games - ind. RRCHN13-08-200813-08-2008
Olympic Games - ind. TTCHN9-08-20089-08-2008
World Champ. - ind. TTITA25-09-200825-09-2008
World Champ. - ind. RRITA28-09-200828-09-2008
Races entered on the UCI Europe Tour calendar
Paris - NiceFRA9-03-200816-03-2008Hors Classe
Tirreno - AdriaticoITA12-03-200818-03-2008Hors Classe
Milano - SanremoITA22-03-2008
Paris - RoubaixFRA13-04-2008
La Flèche WallonneBEL23-04-2008Hors Classe
Liège - Bastogne - LiègeBEL27-04-2008
Giro d'ItaliaITA10-05-20081-06-2008
Tour de FranceFRA5-07-200827-07-2008
Vuelta a EspañaESP30-08-200821-09-2008
Paris - ToursFRA12-10-2008Hors Classe
Giro di LombardiaITA18-10-2008