Armstrong out of San Remo with stomach bug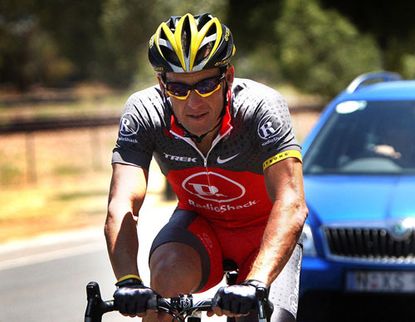 Lance Armstrong has been forced to withdraw from Saturday's Milan-San Remo race in Italy due to a bought of gastroenteritis, Team RadioShack confirmed on Friday.
The RadioShack leader will be replaced on the squad by Japanese rider Fumiyuki Beppu. It's the second set-back for the US-based squad's Milan-San Remo line-up after Belgian sprinter Gert Steegmans was deemed unfit to start due to injury sustained after a fall at Paris-Nice.
It would have been Armstrong's eighth appearance at the race. His next racing appearance is schedule to be the two-day Criterium International in France at the end of March (27-28).
Armstrong had returned home this week after riding in the Cape Argus Cycle Tour in South Africa. The seven-times Tour de France winner immediately hit the headlines after fighting back at anti-cycling comments made on air by ESPN radio presenter Tony Kornheiser.
Kornheiser - known for his anti-cycling sentiments - had joked that all cyclists should be 'run down' for hogging the road. Armstrong picked up on this and commented via his Twitter feed that Kornheiser was "Disgusting, ignorant, foolish. What a complete f-ing idiot." This sparked a sizeable backlash against Kornheiser.
According to Armstrong's Twitter, he was due to appear on the Kornheiser show on Friday by invitation of the host, who was expected to retract his anti-cycling comments and debate the issue with Armstrong. The Texan's appearance on the show is now unlikely due to his illness.
RadioShack's weakened line-up for Milan-San Remo (Saturday, March 20) is now Fumiyuki Beppu, Daryl Impey, Markel Irizar, Geoffroy Lequatre, Dmitriy Muravyev, Gregory Rast, Sébastien Rosseler and Tomas Vaitkus.
Related links
What makes Milan-San Remo a great race - and who will win?Milan-San Remo 2010: The Big Preview
Armstrong ninth in Cape Argus ride
Thank you for reading 5 articles this month* Join now for unlimited access
Enjoy your first month for just £1 / $1 / €1
*Read 5 free articles per month without a subscription
Join now for unlimited access
Try first month for just £1 / $1 / €1