Armstrong takes Scottish public for a ride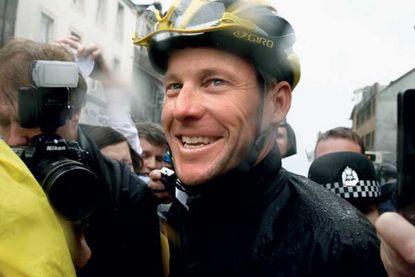 Lance-mania hit Scotland on Tuesday as seven-time Tour de France winner Lance Armstrong went for a ride and invited the public to join him. Cycling's very own equivalent of a flash mob hit the town of Paisley, west of Glasgow, with the massed ranks of the media in tow.
"Hey Glasgow, Scotland!! I'm coming your way tomorrow. Who wants to go for a bike ride??" the Texan wrote on his Twitter page. Once details of the ride's start in Paisley were posted, that left just a couple of hours to get there, but hundreds of riders braved the less than ideal weather conditions for the chance to ride with Armstrong.
Tom Stewart, manager of the Ashtree House Hotel in Paisley, agreed to host the event and was still buzzing when Cycling Weekly spoke to him after the mob had disbursed.
"The atmosphere was amazing, there was such an electric vibe about the place and it looked like everyone was having a great time," he said. "The hotel was full of cyclists coming in and out: you could barely move. The roads outside had been blocked off by the police. There was about 300 people but the police did a superb job, there was no trouble at all."
Armstrong was not the only famous face in town. Former hour record holder Graeme Obree made it in time to join the ride. "And how great was it that the Flying Scotsman Graeme Obree came out?? Legend" Twittered Armstrong.
"There were a few well known faces here," said Stewart. "Graeme Obree is still here, entertaining the staff about some of his exploits; he's also had a great day. I spoke to Lance and he thanked me for hosting the event with such short notice. He was just bowled over by the whole thing."
Newly-crowned Scottish road champion Ross Creber made it to Paisley after a 40-minute dash from home. "I heard about it on the morning and was due to go out for two hours on my own, so thought I might as well go out with Lance!" he said. "There were a few guys from the team [Endura] and quite a few other good Scottish riders. It was cool. Lance seemed to really enjoy it."
Armstrong managed to sift out some of the weaker elements of the unwieldy bunch once they were out of town. "It was a bit of a scrum" said Creber, "but once we got out onto harder roads half the people went away. Lance was keen to stay on his bike - a lot of the people there were pretty dodgy riders - so he put the hammer down.
"There were hundreds of journalists and media at the start and then dotted all around the course, but he rode alongside and chatted with everyone. We were out for two and a half hours. And he tried his hand at the Scottish accent, much to everyone's amusement!"
Armstrong flew to London courtesy of Irish band U2 having seen the concert at Glasgow' Hampden Park. Then he was off to Norway to ride the Oslo Grand prix. He may be back in London on Thursday before heading to Ireland. No hint of a London ride as yet. Keep your eyes peeled...
Lance wonders what he's started
Time for a few autographs...
...then hit the road, followers in tow
RELATED LINKS
Ride with Lance in Scotland
Thank you for reading 20 articles this month* Join now for unlimited access
Enjoy your first month for just £1 / $1 / €1
*Read 5 free articles per month without a subscription
Join now for unlimited access
Try first month for just £1 / $1 / €1