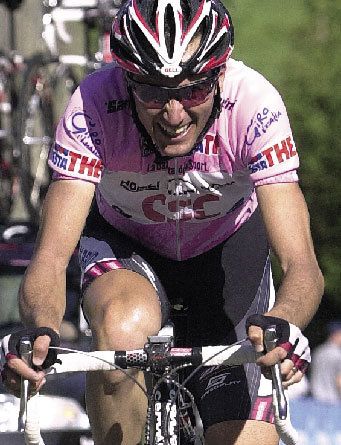 Ivan Basso is set to join the American Discovery Channel team according to a report in today's (Wednesday, November 8) Italian sports daily, Gazzetta Dello Sport. The Italian has long been courted by Lance Armstrong's squad, but the move is controversial due to Basso's involvement in Operacion Puerto.
Basso is currently in Japan, but both Lance Armstrong and Basso's manager Giovanni Lombardi are saying it's a done deal and will be made official later today.
Basso, winner of this year's Giro d'Italia, was cleared two weeks ago by the Italian Olympic Committee, after the judge presiding over Operacion Puerto ruled the evidence from the Spanish aurthorities could not be used against him or any other cyclist. His team CSC then parted company with him knowing that evidence against Basso could re-surface next year when Operacion Puerto goes to court.
A UCI spokesman said, "He is free to race today, [but] we said that the conclusion has to be considered as only provisional." He went on to say that if the Spanish judge again allows the UCI to use the evidence they hold, the case against Basso, and the other implicated riders, can be re-opened.
This casts a huge doubt over Basso's future, but Discovery are still willing to risk a reported $6m (over three years) on the Italian in the belief that he can win them the Tour de France next year.
But if the move is finalised, Discovery may well find themselves without a place in next year's Tour de France, as organisers ASO are saying teams will only be invited to ride rather than qualifying through their ProTour standing.
Thank you for reading 5 articles this month* Join now for unlimited access
Enjoy your first month for just £1 / $1 / €1
*Read 5 free articles per month without a subscription
Join now for unlimited access
Try first month for just £1 / $1 / €1