Bike brand tries to track down one customer's stolen bike; accidentally exposes international bike theft operation
Dutch brand Vanmoof stumbles across huge warehouse of stolen bikes in Morocco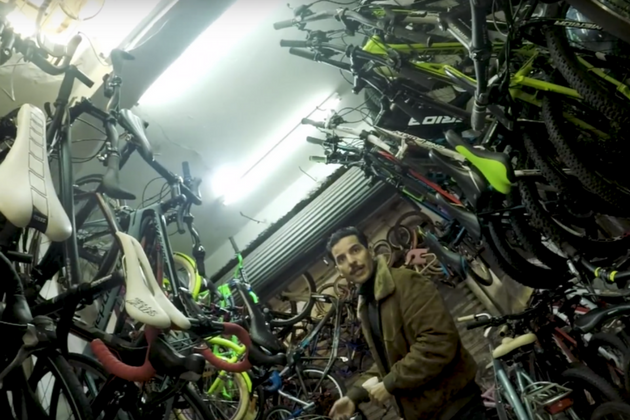 Dutch bike brand Vanmoof might be unique in offering to track down customer's stolen bikes, but they can't have been expecting that this service would lead to the discovery of an international criminal trade in stolen bikes spanning two continents.
The company's SmartBikes are fitted with GPS trackers, allowing their "Bike Hunters" to track one French customer's bike down to Casablanca, Morocco.
Despite being stolen more than a year ago, the bike was back on the company's radar after they were contacted by the thief - or at least the man they thought was the thief - after he experienced technical difficulties.
>>> 'I don't feel safe at home any more': Alex Dowsett left shaken after burglars steal time trial bike
However when Vanmoof's bike hunter Joeri meet Anas, the bike's new rider, it becomes clear that he had nothing to do with the bike's theft in Paris, and even offers to help Joeri meet the man who he bought the bike off.
What they discover next is quite extraordinary, as they travel to the warehouse where Anas bought the bike, finding a huge store of bikes which have apparently been stolen from Europe before being shipped to Morocco where they are sold on to unsuspecting punters.
Following the discovery Vanmoof say that they are working with the Moroccan authorities to crack down on the bike theft operation.
>>> Watch: CCTV footage shows thieves making off with €100,000 worth of Bianchi bikes in bike shop raid
And the story has a happy ending as Vanmoof not only provide a brand new bike to their customer in France, but also return the original stolen bike to Anas who has promised to help with tracking down any other stolen bikes in Morocco.
This isn't the first time that Vanmoof has hit the headlines for unusual reasons. Back in 2016 the company gained a huge amount of attention when it announced that it had seen an 80 per cent reduction in delivery damages after it started printing pictures of televisions on the outside of the cardboard boxes it used to deliver bikes to its customers.