Bike manufacturer sees huge reduction in delivery damage by printing TV on the box
Dutch manufacturer Vanmoof discovers that printing a picture of a flatscreen TV on their bike boxes reduces delivery damages by 70-80 per cent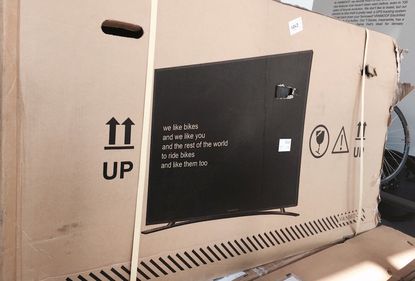 With bike sales trends moving more into the online marketplace, manufacturers are having to come up with better ideas of how to ensure their products arrive safely with their customers.
For some reason, bicycles in big cardboard boxes have a tendency to get dropped, bashed or crushed by delivery companies, which has spurred Dutch manufacturer Vanmoof into action to find a solution.
What did they do? Instead of putting a picture of a bike on the box they printed a picture of a large flatscreen TV instead and saw instances of delivery damage drastically reduce.
"No matter who was doing the shipping, too many of our bikes arrived looking like they'd been through a metal-munching combine harvester. It was getting expensive for us, and bloody annoying for our customers," creative director Bex Rad wrote on the company's blog.
"Earlier this year our co-founder Ties had a flash of genius. Our boxes are about the same size as a (really really reaaaally massive) flatscreen television. Flatscreen televisions always arrive in perfect condition. What if we just printed a flatscreen television on the side of our boxes?
"And just like that, shipping damage to our bikes dropped by 70–80%."
Easy as that. No-one wants to damage a brand new TV, but bikes are sometimes forced to endure more arduous conditions in transit. But put a picture of a TV on your bike box and that's your problem almost solved.
Thank you for reading 20 articles this month* Join now for unlimited access
Enjoy your first month for just £1 / $1 / €1
*Read 5 free articles per month without a subscription
Join now for unlimited access
Try first month for just £1 / $1 / €1