Watch: CCTV footage shows thieves making off with €100,000 worth of Bianchi bikes in bike shop raid
Nearly 30 bikes stolen in just three minutes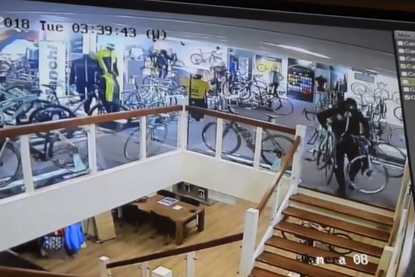 https://www.facebook.com/BianchiBenelux/videos/1583250581729915/
A bike shop in the Netherlands has shared the extraordinary CCTV footage of thieves breaking into the shop and making off with €100,000 (£87,400) worth of Bianchi bikes in just three minutes.
The footage, which was shared on Facebook by Bianchi Benelux and viewed more than 140,000 times at the time of writing, shows three thieves running up and down the stairs, grabbing as many of the high-end Italian bikes as they can carry.
Filmed in the De Tweewieler Vught en Udenhout bike shop in the small town of Udenhout in the south of the country, the theft took place at 3.38am on the morning of January 23.
>>> London bike shops share their cycle theft horror stories
The men, all of whom are dressed from head to toe in black and wearing balaclavas, make multiple trips up and down the stairs, carrying as many as five bikes at a time. It is not clear if the thieves are intentionally targetting the highest value bikes, or simple grabbing the first bikes that come to hand.
After carrying the bikes down the stairs, they then presumably loaded the bikes into a van or lorry parked outside the store, before making their escape.
>>> Gang use sledgehammers to raid Manchester bike shop (video)
Several high-value road bikes and mountain bikes, and one electric road bike were taken from the store. Among the models stolen were an Oltre XR3, Oltre XR4, Aria, Infinito CV, Methanol, Impulso, and E-Road, with a number also being in Bianchi's trademark celeste paintjob which will hopefully make them easier to spot.
Bianchi Benelux and the De Tweewieler Vught en Udenhout bike shop are appealing for information to help track down the stolen bikes, with anyone with information being asked to contact local police on 0900 8844 if calling from locally, and +31 343 57 8844 if calling from abroad.
Thank you for reading 20 articles this month* Join now for unlimited access
Enjoy your first month for just £1 / $1 / €1
*Read 5 free articles per month without a subscription
Join now for unlimited access
Try first month for just £1 / $1 / €1