London bike shops share their cycle theft horror stories
Capital's bike shops share their stories of bike theft in London - and give advice on how to prevent theft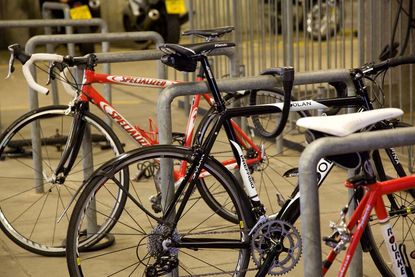 Interviews by Richard Cantle, founder of Stolen Ride (stolenride.co.uk)
London is the capital of bike theft in the UK, with an estimated 70,000 cycles stolen each year.
London's bike shops often see the rough end of cycle theft – helping out customers who have had their bike stolen. It's not just complete bikes that get nicked either, it can be a saddle, a bolt, wheels... anything that can be removed, can be pinched.
Here are a selection of stories gathered from London bike shops to paint a picture of the experiences of those who have had their bikes stolen.
Each bike shop was asked the question: "What experiences do you have of bicycle theft in London? Can you share a story with us?" Sometimes, it was the bike shop itself that was the target of theft, other stories are from customers.
Reassuringly, some have recovered their stolen bikes, and others have managed to avoid experiencing theft completely.
Hackney Peddler
http://www.thehackneypeddler.co.uk/
A couple of weeks ago I had my bike pinched from in front of my shop. We immediately suspected the local kids who were on half term and had been hanging round the shop during the day whilst we tinkered on their bikes. We often fix their bikes for free and so it was disappointing to consider that it may have been one of them.
Anyway, a few days went past and I was cycling home on a shop bike and spotted a group of kids on the side of the road opposite my building. I recognised a few of them and saw several bikes scattered on the floor around them. As I got closer I immediately recognised my own bike at which point I jumped off the one I was riding and marched over to where my bike lay.
I picked it up and loudly exclaimed 'This is my bike!'. To which I received a few miffed looks followed by an onslaught of bravado as to why I was taking said bike. After a slightly heated exchange, during which I pointed out that I recognised several of them from my shop, one of the kids said he's bought it and that I should give him £50 to cover what he paid.
I was having none of it and so told him to come by the shop and talk to me about it in the next few days if he wanted his money back, but for the time being I was taking my bike and going inside. Which I did.
>>> Bike thief reveals tricks of the trade in this shockingly candid interview
Surprisingly enough the boy never showed. Of course it was upsetting to see such a demonstration of disregard for us when all we try to do is help, but at the same time I'm almost glad it was just bored kids and not professional bike thieves. Had it been the latter I would've probably never have seen my bike again. That said, I did get my bike back and so my message here is to stay positive and keep the faith. Sometimes stolen bikes come back.
London Bike Kitchen
My beloved LeMond was stolen the night of the Dunwich Dynamo in 2013. I remember it so well. I sent off several riders into the sunset and as I was pulling the shutter down my sis called. I decided to be a good sister and picked up as I went back into the shop.
An hour later, I emerged - I could've sworn my bike was parked out front. I ran out to the back of the shop thinking maybe I put it back there - no bike. I ran back out front and saw my brand new Brooks saddle, the one I was breaking in, still attached to the seatpost and locked to the stand. I had forgotten to lock the frame.
I sat down and cried. I think I cried for a week. It still breaks my heart - I loved that bike. It was the one that got me into cycling in the first place. On the plus side, one of the mechanics put together a crowdfund for a new bike and it raised £1k in 24 hours.
After my mourning period I used that money to send Caren Hartley to The Bicycle Academy - she got the knowledge and I got a hand built custom frame that's now an Audax bike. I've also had two Brooks saddles, and some really fantastic vintage wheels stolen. All because I was lazy and/or forgot to lock properly. The thieves are always watching.
London Fields Cycles
http://www.londonfieldscycles.com/
At least every day we deal with the aftermath of bike theft from our customers, from full bikes going to specific parts being taken. Some memorable scenarios that have left us bewildered include a bike saddle stolen and replaced with another bike saddle, a stolen bike actually replaced with another bike (not quite as nice but the customer at least has something to get home on) and also someone who just had the right hand gear shifter stolen.
SBC Cycles
I (touch wood) haven't had any bikes stolen in my 10 years living in London. I always use a good lock, lock it to something strong and have my wheels and components locked down with security skewers and bolts. I have heard many stories of bikes getting stolen and the odd story about the bike being found and retrieved but it is rare.
Isambard's Cycles
Neither I nor my partner has had a bicycle - or anything off a bicycle - stolen in London (aside from the odd light) - touch wood. We're very careful about where we lock our bikes up, what we lock them up with (and we don't tend to get so hammered that we stumble home and forget about our bikes these days).
Stayer Cycles
My first London bike was stolen within 8 hours. It is a sad story as it was a present from Judith but thankfully it was many moons ago so I can talk about it without getting upset! Judith had spent hours cleaning and getting it into mechanical shape, new tyres, etc and then brought it over to London.
It wasn't much of a performance machine, in fact it was an old Ludo race bike that had town bike handlebars and a pressed metal chain guard, the sort you see everywhere in Belgium parked outside houses and propped up (rarely locked up) in droves along the roadsides. It was a bit of a looker though, being silver and shiny from all of the recent attention it had been given by Judith.
We cycled to a friend's exhibition on Redchurch Street and parked up on the railings opposite Shoreditch High Street station. We were at the exhibition for an hour, with me telling everyone about my cool new bike and how great a present it was… and when we left it was gone. My 'Belgian' lock (a pencil thin cable lock with a combination that had been gifted with the bike) had been snipped, it looked like a few other bikes had been taken as well – that was the end of that. I haven't been particularly willing to lock my bike outside since then as it was a pretty heart-wrenching experience. Thankfully it was the only bike I have lost while living here.
>>> Best bike locks: a buyer's guide
HUB
We're located in West London and have been open for 13 years so we've seen A LOT of bike theft and get customers in on a weekly basis who complain of having their bike stolen. The theft we've dealt with ranges from calculated operations to opportunist. They can work so quickly. Even to the point of a customer leaving their bike on our shop doorstep and in the space of them walking inside and saying "Hi!", someone has jumped on their bike and shouted "Bye!".
We've funnily enough managed to recover a handful of customer's bikes. We've had local kids come to our shop with bikes that we've recognised and with a little bit of convincing we've managed to secure the bike and either call the customer who we know owns the bike or sometimes we've had to wait for the owner to come in and look for a new bike only to present them with their bike back! It's a great feeling when you can do that, unfortunately not everyone is so lucky.
Seabass Cycles
http://www.seabasscycles.co.uk
I personally have never had a bike stolen or had any components removed from my bike while it's been locked up. I guess I've just been lucky. I have friends who have had their bikes stolen from the street and even from their houses; the chance of ever getting a stolen bike back I think is pretty slim but definitely not impossible. A customer of ours had his bike stolen from Camberwell Church street. His girlfriend was holding the bike outside, while he was inside the shop. She was approached by two guys who just snatched the bike from her and rode off down the street.
We put a photo of the bike on our Instagram along with details of what happened and within 20mins someone replied saying a guy just tried to sell them the bike on Rye Lane in Peckham. The bike was back with it owner within the hour. The power of social media! I know of a couple of other bike thefts that have been resolved via social media.
BlueDoor
Sadly I have direct and indirect experience of bicycle theft. I once left my bike at a local railway station early in the morning and got home late that evening after a very long working day to find my bike had been stolen - not a great feeling!
It had had a decent lock - but someone had obviously gone prepared to steal and I suspect that it was done late in the evening when they thought the bike had been left overnight. Saw it later being ridden by kids but unfortunately never got it back (I could not catch up with them on a folding bike!). Customers also regularly report thefts of bikes from stations, sheds, communal hallways and plenty of other locations.
Sometimes even when they are insured, the insurance company refuses to pay out (due to issues with inadequate security) or when they do provide a replacement bike it is unsatisfactory and they insist on it being provided from a specific supplier hundreds of miles away! It is worth asking about this when you buy insurance.
Heales Cycles
Every day we have something come in the shop that is ether vandalised or attended theft. Most outright theft seems to be from garden sheds or garages. Street theft is getting less in my opinion.
The question posed to London bike shops was part of a wider-ranging survey, the results of which will be available via www.stolenride.co.uk.
Do you have a cycle theft story to share? Let us know in the comment section below.
Thank you for reading 10 articles this month* Join now for unlimited access
Enjoy your first month for just £1 / $1 / €1
*Read 5 free articles per month without a subscription
Join now for unlimited access
Try first month for just £1 / $1 / €1
Nigel Wynn worked as associate editor on CyclingWeekly.com, he worked almost single-handedly on the Cycling Weekly website in its early days. His passion for cycling, his writing and his creativity, as well as his hard work and dedication, were the original driving force behind the website's success. Without him, CyclingWeekly.com would certainly not exist on the size and scale that it enjoys today. Nigel sadly passed away, following a brave battle with a cancer-related illness, in 2018. He was a highly valued colleague, and more importantly, n exceptional person to work with - his presence is sorely missed.