British cyclist died after missing corner and falling 100 feet off cliff in Pyrenees
Inquest into death of experienced cyclist Jennifer Hill in August records a verdict of accidental death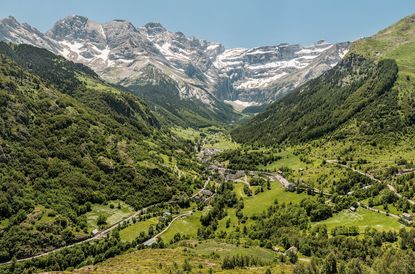 (Image credit: Benh LIEU SONG)
An inquest into the death of British cyclist Jennifer Hill has heard how she fell 100 feet off a mist-shrouded cliff in the Pyrenees in August.
Experienced cyclist Hill, 57 of Monmouth, was on a cycling holiday with her husband, Adam Spector when she missed a hairpin turn in misty conditions on a descent in the Gavarnie area. The couple had rented bikes and were on their first day in the Pyrenees when the incident happened.
The inquest at Newport Coroners' Court heard that she plunged 100 feet from the edge of the road into a ravine and died instantly, reports the BBC.
Spector was unaware of what had happened to Hill, as he was riding ahead. He only realised what had taken place when he stopped at a café to wait for his wife and was informed of the incident by another cyclist.
>>> British cyclist dies after falling into a ravine in the Pyrenees
"I was taking it slowly and carefully, and I passed back through the cloud," Spector said.
"I didn't look behind me and I stopped about four miles after to wait for her. I didn't' see her pass me so I thought that I might've missed her."
The inquest passed a verdict of accidental death. Gwent Coroner David Bowen said "she died doing a past-time she enjoyed".
Hill was Vale of Glamorgan council's director of education, and council leader Neil Moore paid tribute to her in August, saying: "Jennifer's passing is an absolute tragedy and a huge loss to her family, friends and colleagues. She will be greatly missed by all who knew her and will leave a space that cannot be filled."
Thank you for reading 5 articles this month* Join now for unlimited access
Enjoy your first month for just £1 / $1 / €1
*Read 5 free articles per month without a subscription
Join now for unlimited access
Try first month for just £1 / $1 / €1