David Millar ready to confront the Hell of the North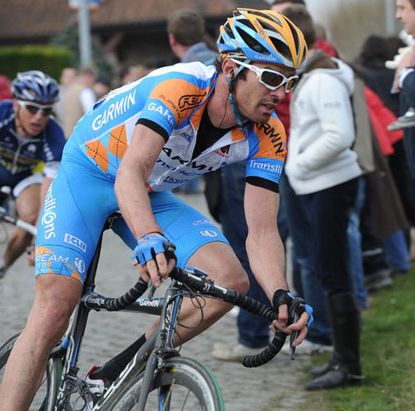 David Millar will start Paris-Roubaix for the first time in ten years on Sunday, having been inspired to ride after watching the race on the pavé 12 months ago.
The 33-year-old Garmin-Transitions rider has thrown himself head-long into a full campaign at the cobbled Classics for the first time in his career. He targeted the overall classification at the Three Days of De Panne. On the first day, he got into the break and gained time over most of his rivals, then he had to work very hard on the longest stage to stay in contention when dangerous riders threatened his position. Victory in the time trial gave him the overall classification.
Because he hadn't worn the leader's jersey during the race, Millar went down for dinner in his team's hotel that night wearing it.
At the Tour of Flanders last Sunday he took the initiative to set off after Fabian Cancellara and Tom Boonen and for a while looked to be in with a chance of reaching the podium when he was with Philippe Gilbert and Bjorn Leukemans in the second group on the road. But his lights went out on the Muur, as he puts it, and he finished in the first big group that came in 2-35 behind Cancellara.
Now he is looking forward to Paris-Roubaix, his only regret that he has discovered a love for the cobbled races so late in his career.
Sunday will not, as some have suggested, be his Paris-Roubaix debut, although his first experience of the race didn't grab much attention. As he joked to Cycling Weekly all those years ago: "The race I did would be better described as Compiègne-Troisvilles."
"Back then, my only job was to look after Francis Moreau," Millar says now. Then a 23-year-old setting out on his fourth season as a professional with the Cofidis team, he was a few months away from winning the opening time trial at the Tour de France and wearing the yellow jersey. "That day I rode in the wind for 150 kilometres and had no expectation of getting to the second feed. I did the first section of cobbles but I think that was all. Then I punctured and that was pretty much the end of my race.
"When I was a neo-pro [in 1997] I was named as first reserve for Paris-Roubaix by Cofidis but I had already done a ridiculous amount of racing for my first year and I was absolutely on my hands and knees." Something happened and the team management wanted Millar to start the race. "I refused to start. It was crazy. There was no way I was going to do it." Back then that was the role of the new professional, to fill in whenever needed. "Even then, though, I wasn't falling for that."
When Millar first moved to France as a teenage amateur cyclist, he joined VC Saint-Quentin, not far from Compiègne, where Paris-Roubaix starts, and did plenty of races in the region. But in his early days he was cast as a time triallist and a fledgling stage racer rather than a hard man.
It is only now, with all the experience of a chequered career under his belt, that he has realised that his ability to read a race and the technical bike-handling skills he possesses make him ideal for races like the Tour of Flanders and Paris-Roubaix.
But it took a visit to the pavé as a fan to convince him. Out of action after crashing at Paris-Nice, Millar travelled to Paris-Roubaix with Doug Ellis, the owner of the Garmin team. "We went to the pavé zones and watched it and had a beer with the fans. It was just incredible and I decided there and then that I had to do this race properly."
Sunday's ride at the Tour of Flanders left Millar tired but with more confidence. It's been suggested that his decision to attack in pursuit of riders like Boonen and Cancellara lacked tactical know-how, but to the contrary, there was method to his madness. Instead of attacking on a climb, when everyone wants to go hard, he waited until it eased up after the Leberg and attacked on the flat, hoping that some riders would come across on the next climb, Berendries.
"Me and Whitey [Matt White, the Garmin-Transitions directeur sportif] discussed it. It was deliberate to go on the flatter section because everyone kills themselves on the climb then eases up," he says.
"I just thought, 'why wait?' They [Cancellara and Boonen] were riding away from us so why just watch them do it? It's a bit pathetic really. It was a do-or-die effort and basically I died, but I'd rather do that and say I tried something than just sit in the group."
It had been an eventful race, as Flanders always is. Millar had crashed a couple of times and ended up walking the top section of the Koppenberg. And because of a chase back to the bunch he missed out on a couple of bottles and an opportunity to take some food from a team-mate.
And then he hit the wall, literally and metaphorically. As he arrived at the climb of the Muur, which means wall, he ran out of energy. "It was frustrating because I knew I'd missed a few chances to drink and eat but I basically just crawled up the Muur. I got a Coca-Cola from the neutral service car but it was too late."
Millar didn't get caught until three kilometres to go, then he summoned up his last drop of energy to lead out Tyler Farrar, his team-mate. "Ty said to me 'Dave, I've got a hundred metres left in me', so I had to try to lead it out as late as possible."
After a couple of days at home in Girona, Millar returned to northern France for a race that captured his imagination as a child.
"I'd seen it on TV and read about it and I'd seen A Sunday In Hell," he says, referring to the iconic documentary film of the 1976 race directed by the Dane Jorgen Leth. "We use the term 'monuments' freely in cycling but to me, Paris-Roubaix is the ultimate monument. Once you've seen those images of the guys in the velodrome, covered in mud, looking like they have come out of the First World War trenches, you can't forget it. The epic nature of it all was instantly appealing but as a rider it didn't appeal to me to actually ride it because it was so far out of my comfort zone. Until now.
"I'm not an expert but I'd like to be some help to Johan [Van Summeren] and Martijn [Maaskant] as late in the race as I can. I'm hoping for a bit of beginner's luck on the cobbles. Obviously it helps if you know it like the back of your hand but in a way it means I won't be complacent. I know Flanders is more in my domain but I'm really looking forward to Roubaix."
RELATED LINKS
Read Cycle Sport magazine's superb interview with David Millar
Cycle Sport's Classic Race: 1990 Paris-Roubaix. When Planckaert beat Bauer by a centimetre in the velodrome
Cycling Weekly's Big Preview: Paris-Roubaix 2010
Geraint Thomas recalls his 2004 Junior Paris-Roubaix win before pro debut
Hammond looking for a top performance
Pozzato fit for Paris-Roubaix after illness
Boonen aims to equal De Vlaeminck's Roubaix record
Sky's Juan Antonio Flecha feeling strong
Ex-world champion Ballan suspended by his team and pulled out of Roubaix
Sky's Boasson Hagen out of Paris-Roubaix
Thank you for reading 20 articles this month* Join now for unlimited access
Enjoy your first month for just £1 / $1 / €1
*Read 5 free articles per month without a subscription
Join now for unlimited access
Try first month for just £1 / $1 / €1