DAWSON SECURES THIRD NATIONAL 12 TITLE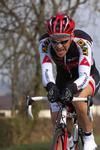 MAKING his first appearance in a 2007 national championship, Kevin Dawson scored a comfortable victory in the National 12-Hour Championship at Sutton on Derwent, North Yorkshire.
Dawson, who won the 12 title 2001 and 2002, covered 291.49 according to the provisional result, beating Carl RUebotham (Team Swift-Allsports) into second by more than 11 miles and providing the backbone of his 2007 British Best All-Rounder campaign.
While last year?s champion Oliver Jones (API Metrow) climbed off mid-way through the event, Dawson ploughed through the miles in trademark style, maintaining his effort throughout the half-day event.
Nik Bowdler (Farnborough and Camberley CC) was less than a mile behind Ruebotham in third, while leading woman was Kirsti Thys (Severn Road Club), with 242.84 miles.
Holme Valley Wheelers? Samantha Mannion, who had been aiming at a medal, was lucky to escape with only cuts and bruises after she was in collision with a car.
More results and information in this week's Cycling Weekly, out on Thursday.
National 12-Hour Ch?ship.-
1 Kevin Dawson (Pinarello RT) 291.49
2 Carl Ruebotham (Team Swift-Allsports) 280.25
3 Nik Bowdler (Farnborough & Camberley CC) 279.61
4 Paul Holdsworth (Hounslow & Dist Wh) 278.04
5 Paul O?Mahoney (Pro Bike Kit) 277.30
6 Sean Childs (RNRMCA) 276.18
Thank you for reading 10 articles this month* Join now for unlimited access
Enjoy your first month for just £1 / $1 / €1
*Read 5 free articles per month without a subscription
Join now for unlimited access
Try first month for just £1 / $1 / €1
Snowdon Sports is a long-established independent sports news agency, which supplies editorial to a range of media outlets - such as Cycling Weekly - as well as sports governing bodies. Snowdon Sports often covers results at Cycling Time Trials events in the UK and has long been a source of information and imagery to Cycling Weekly.