DEAN DOWNING TO RIDE FOR RAPHA CONDOR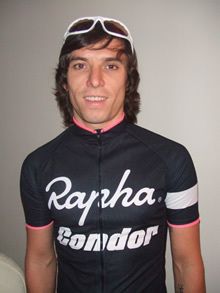 Dean Downing will lead a strengthened Rapha Condor team next year following his split from British pro team DFL. Downing has moved back to the UK after a season based in Belgium and will once again focus on the British racing calendar.
Downing will be based in his home town of Rotherham and is aiming for the Premier Calendar and Elite Circuit series. Dean?s younger brother, Russell, also left DFL and has now signed for the American Healthnet team, making 2007 the first season since 2003 that the pair haven?t ridden together.
Next season will be different for Downing in several ways. Not only will he compete in the races that he and his brother dominated in 2005, he'll be doing more promotional work for Rapha, including riding the Etape du Tour. He is also getting married at the end of October, one of the reasons he was keen to be based in the UK this year.
Downing will travel to Lanzarote for a two week training camp in January and will then travel with his new team to the south of France where they will combine a week's training camp with four one-day races.
Rapha, a London-based cycle clothing company, will announce its full line-up early in the new year and is planning to run a women?s team alongside its men?s team.
Thank you for reading 20 articles this month* Join now for unlimited access
Enjoy your first month for just £1 / $1 / €1
*Read 5 free articles per month without a subscription
Join now for unlimited access
Try first month for just £1 / $1 / €1